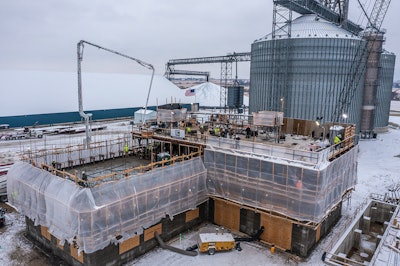 After announcing collaborative plans in March 2022 to build a new feed mill in Hamlin, Iowa, AMVC and Landus announced that construction is underway at the Hamlin feed mill site.
Last week, the concrete structures, including a day bin, loadout area and milling towers, were poured using a slipform process.
The 145-foot mill took eight consecutive days to construct, rising approximately 20 feet each day, and a crew of 200 people worked 12-hour shifts, 24 hours a day.
The roof is expected to be poured throughout the winter.
Once complete, the project will enter the next construction phase, adding milling and mixing equipment and warehouse space.
The project first broke ground in August and is expected to be fully operational in the summer of 2024.
"We are excited to see this project come to fruition as it will add long-term economic and agricultural value to Audubon County and surrounding areas," said Dr. Steve Schmitz, veterinarian and managing partner of AMVC Management Services.
"The Hamlin feed mill allows AMVC and our clients more control over ingredient sourcing, quality assurance, and biosecurity, and creates an additional market for area crop producers."

400,000 tons/year of swine feed
The feed mill will produce up to 400,000 tons/year of swine feed, generating demand for roughly 8.5 million bushels of corn and 48,000 tons of soybean meal annually.
Once the project is complete, the mill will create 22 additional jobs – eight full-time mill employees and 14 local truck drivers.
"This investment into our nutritional program will provide cost savings and performance benefits for area pigs and enables us to better serve local swine operations," said Dr. Trey Kellner, swine nutritionist and managing partner of AMVC Nutritional Services.
"AMVC, Landus, and project partners, Empire Ag, KC Engineering and Agriculture Solutions International, have been drafting and designing the mill for over a year. It is exciting to see those efforts become a reality."
AMVC will own/operate new feed mill

Through this partnership, AMVC will own and operate the feed mill. Landus will be responsible for originating grain through its network of local farmer-owners.
"Our collaboration with AMVC showcases what's possible when partners work together with an optimized approach to serving our local communities," said Matt Carstens, president and CEO, Landus.
"The Hamlin facility provides additional grain origination, marketing and storage opportunities for Landus farmer-owners in western Iowa, keeping 8.5 million bushels of grain local," he continued. "And all this was brought to life through an improved feed model that better serves both partners. AMVC will experience better control of their long-term biosecurity and traceability needs while Landus can focus on sourcing quality grain from our farmer-owners."

Landus Conduit helps streamline grain supply chain

Carstens said Landus continues to seek responsible and impactful investment opportunities into insights and infrastructure, giving its farmer-owners access to more value in the supply chains in which they participate.
Earlier this week, the company launched Landus Conduit, LLC, which will extend the intellectual capital and capabilities of the cooperative into new markets and geographies.
Bruce Vernon has joined the executive leadership team to lead the project.
Landus Conduit will connect farmers, aligned agriculture and grain organizations with collaborators to streamline supply chain and access incremental value.
Collaborations will benefit from new service options through the Landus GROW Solutions Center and financing partners to create new capabilities and channels for sustainability across all segments.
"At Landus, we continually explore ways to bring value to our farmer-owners," Carstens.