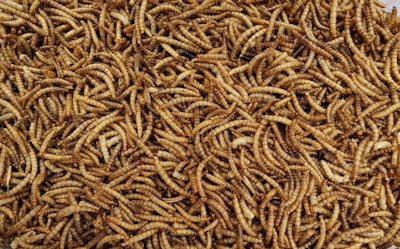 Ÿnsect intends to expand insect production sites within the U.S., building off Ÿnsect's first mealworm farm opening in March 2022 in Nebraska.
Ÿnsect anticipates initial construction on the additional production site to begin by end of 2023.
As part of this expansion, Ÿnsect will explore potential synergies with Ardent Mills.
Ÿnsect aims to help contribute to reinventing the global food system, while also focusing on sustainability," said Antoine Hubert, CEO and co-founder of Ÿnsect. "We are excited to examine potential opportunities with the North America leader in flour milling.
"This exploration marks the start of potential collaborations between two key players within the global food industry."
Expanding its business across all continents
Ÿsnect is strategically expanding its business across all continents to establish local relations with wheat chains and limit CO2 emissions, water consumption and biodiversity impact across farming activities.
The company has adopted a circular economy model for its new vertical farms to create value chains that are fully compliant with the Paris COP21 agreements.
"We see many synergies with Ÿnsect -- as we both strive to transform the way the world is nourished," said Angie Goldberg, chief growth officer, Ardent Mills. "We are excited to be exploring potential sustainable food and ingredient opportunities with Ÿnsect, a company that has developed a unique expertise in insect-based ingredient production.''
With three production sites including the world's largest vertical insect farm, Ÿnsect transforms Buffalo and Molitor mealworms into premium, high-value, sustainable ingredients to feed animals, plants and humans. Since entering the U.S. market in November 2021 following Jord Producers acquisition, Ynsect has filed market approval for its flagship protein concentrate for the pet food market to the AAFCO.
Insects seen as sustainable solution to feed growing populations
The Food and Agriculture Organization (FAO) of the United Nations estimates that animal protein consumption will increase by 52% between 2007 and 2030.
The World Resources Institute, however, also predicts a 60% gap between protein supply and demand by 2050.
With this in mind, the production of sustainable alternatives to animal protein is needed now more than ever.
In addition to offering a highly nutritious alternative to plant proteins, insect protein production is also incredibly sustainable.
Insect protein is more sustainable and will open a new mode of food development that is efficient, nutritious, and capable of positively impacting the food chain at multiple points, said Hubert.
"Mealworm protein is the only one in the world available on the market that can combine not only performance and health, but also natural origin and sustainability," said Hubert. "Compared to traditional farming, Ÿnsect uses 98% less land while significantly reducing its carbon footprint for protein production.