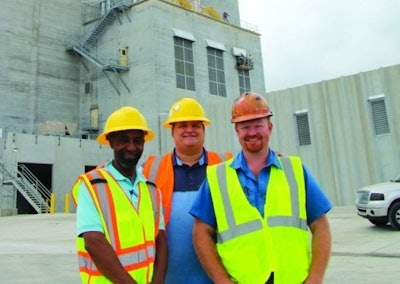 It all started with feed for Pilgrim's Pride. The Greeley, CO-based company's humble beginnings trace back to 1946 when Aubrey Pilgrim and Pat Johns purchased a feed store for $3,500 in Pittsburg, TX. Soon afterward, Pilgrim asked his brother, Lonnie "Bo" Pilgrim to join their partnership.
But the trio wanted to diversify their feed business so they began selling baby chicks from the store, leading to the "vertical integration" model of production — now the No. 1 business model used in the poultry industry worldwide.
Today, Pilgrim's Pride is one of the United States' leading poultry companies, capable of processing more than 34 million birds each week for a total of more than 7 billion pounds of live chicken per year. Its brands are sold across the globe and include Pilgrim's Pride Chicken, Gold'n Plump, Just BARE Chicken, Gold Kist and many others.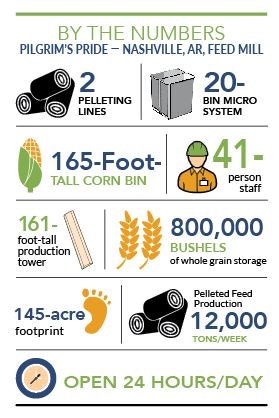 Pilgrim's recently made another pivotal investment in feed by purchasing land and constructing a new feed mill in Nashville, AR, for $35 million. The state-of-the-art facility was built to replace an aging feed mill, which had been in operation since 1955, located about nine miles away from the new site.
In addition to gaining better access to roads and the Union Pacific main line, Coty Stephenson, mill manager, said the new mill will increase production capacity by 33%, going from 9,000 tons/week to 12,000 tons/week.
The new slip-form concrete location boasts 800,000 bushels of whole grain storage and has high-speed receiving capabilities by both truck and rail. It is fully automated from receiving through loadout and equipped with new conveying and material handling equipment, mixing, batching, pelleting and load-out equipment.
The equipment upgrades and improved logistics add up to better feed conversion and live performance, lower feed costs and greater support for Pilgrim's growers in western Arkansas.
Project timeline
In late 2015, Pilgrim's Pride purchased approximately 145 acres of land in Howard County Arkansas for $1.1 million, and received 46 acres of displacement permitting, meaning they will not disturb the remaining 99 acres of land.
The wooded property needed extensive clearing and Pilgrim's chose the engineering and construction firm Todd & Sargent, Inc., of Ames, IA, to do the job. Tree clearing started in January 2016 and took nearly five months.
"Removing the trees was the toughest part," Stephenson recalls. "Then they built the haul road and slipped the mill tower first, followed by the soy bin, and then Todd & Sargent crews returned a month later to slip the corn bins and the hammermill room."
The project was scheduled to be completed in December 2018, but due to wet weather, the construction crew was set back nearly five months.
By April 2019, equipment startup had begun and Stephenson and his staff of 41 crew members were running both the old mill and new feed mill in tandem. The new Nashville location received its first unit train of corn in June, and they shuttered the original Nashville facility at that time.
New features
The difference between the two Nashville feed mills is like night and day, according to Stephenson.
"It's a paradigm shift for us coming from a horizontal steel mill — because you can only go so high with steel — to a mindset where we elevate and drop product throughout production," Stephenson says. "It's changing the mentality to checking computer monitors and elevator legs instead of running across the old mill servicing equipment."
Although the old mill was partially automated with programs like Mill Master 4, Micro Master and Pellet Master, the new feed mill is automated with St. Charles, MO, based-CPM Beta Raven from beginning to end, starting with its two receiving systems.
The rail receiving for corn is rated at 60,000 bushels/hour, while the rail receiving for soybean meal is rated at 300 tons/hour; the truck receiving is rated at 15,000 cubic feet/hour (or 300 tons/hour). InterSystems of Omaha, NE, provided the bucket elevators and drag conveyors for receiving.
For storage, the mill has 29 ingredient bins with a total capacity of 5,000 tons to supply the mixers, four pellet mill surge bins with a capacity of 440 tons, and 24 bulk load-out bins over dual driveways for a total of 3,356 tons of capacity.
The grinding system is rated at 120 tons/hour with provisions for a future grinding system in place. The 200 ton/hour batching system consists of one 10-ton twin shaft mixer by Hayes & Stolz Ind. Mfg., Burleson, TX, one 20-bin micro ingredient system by CPM Beta Raven and one four-bin tote system.
There are two pelleting lines completely furnished by Waterloo, IA-based CPM, each providing 70 tons/hour for a total of 140 tons/hour. Each line is equipped with a CPM 7936-14 pellet mill, a conditioner, a horizontal cooler and a pellet crumbler.
Of the mill's new features, Stephenson said one of his favorite is the custom-built multi-ported pellet conditioner.
"Instead of simply applying steam in a single spot, there are multiple ports," Stephenson says. "Along that conditioning line you might not need quite as much steam at the very beginning, but you may need a bit more in the middle, and we can achieve that with our custom solution."
This precise method of feed conditioning results in a more uniform pellet. There are only two pellet conditioners like it built by CPM in the world, according to Stephenson.
At finished feed load-out, Stephenson highlighted the benefits of their weigh lorry system, provided by InterSystems.
"From a feed clean-out perspective, it's the gold standard because you can get a complete clean-out," Stephenson says. "All the product comes out with nothing leftover to be flushed out. Secondly, it's precise. If you need to put 4,375 pounds in this pocket, in this bin, on this truck, it can do it."
Opportunities
The Nashville facility employs 41 people total and Stephenson is proud of the fact that everyone from the old mill retained their job.
"Some people's titles will change, but we're going to make up for eliminating clean-up positions by adding a truck shop and a fuel island that will need mechanics," Stephenson says.
In addition, the staff includes an assistant mill manager, 10 night shift drivers, 12 day shift drivers, one feed coordinator, one quality control manager, a night shift supervisor, a handful of administrative staff members and several operations professionals.
Pilgrim's Pride's stands for people and values, and Stephenson says the company demonstrates this by offering diverse job opportunities and room for advancement on both sides of the business.
"Whether you want to work on the live side with birds or with the feed and our customers, there are nothing but opportunities and great people everywhere you look." Stephenson says. "I work with the most talented people I've worked with in my life here at Pilgrim's." ■
At-A-Glance: Pilgrim's Pride
Corporate Headquarters: Greeley, CO
Year Established: 1946
Number of Employees: 54,000+
U.S. Footprint: Operations in 14 states
Production Facilities: 36
Feed Facilities: 32
Brands: Pilgrim's Chicken, Gold'n Plump,
Just BARE Chicken (see all brands on company website)
Fun Fact: Nearly 1 in 5 chickens in the U.S. is from Pilgrim's
Website: www.pilgrims.com