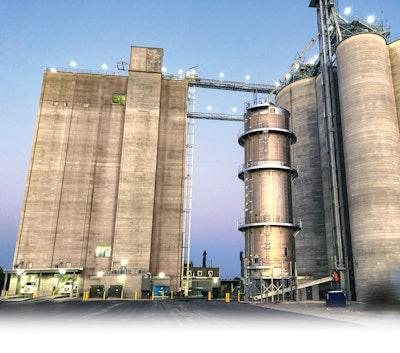 The annual USDA Long-term Agriculture Projections released in March 2019 shows a pattern of increased chicken production and consumption that has been true for the past 45 years. In the first half of the year 1970, broiler production hovered around 10 billion pounds liveweight and by 1990 it had doubled. It doubled again by the year 2000 with 40 billion pounds liveweight produced annually. The USDA's projections estimate a slight slowdown, but still have the nation producing 46 billion pounds of chicken by 2028.
That continued growth represents opportunity for Mountaire Farms, founded in 1914 as a commercial feed business in Arkansas. The company has grown and evolved over its 100-year history, becoming Mountaire Poultry in 1964, when it partnered with seven other companies to begin processing chickens, then Mountaire Corp. in 1971. The company is currently the county's sixth largest chicken producer, with facilities in five states and products shipped around the globe.
Mountaire Farms continues to grow and prepare for the future, and when it acquired a poultry processing plant in North Carolina, the company acted quickly to expand its feed production in the area.
Hungry beaks
"In 2016/2017, when we acquired the Siler City, NC, processing plant site, we knew that we would need to expand our live bird operations in the area to be able to meet the demand this new plant would evoke," says Dr. Carl Heeder, senior director of avian health and nutrition with Mountaire Farms. "To supply the processing plant with the 1.4 million live birds it needed weekly, we would have had to bring in live birds from further out or have the feed delivery trucks take further trips. Building a feed mill in Scotland County was the best solution to balance live bird production and feed manufacturing capacity along with putting the whole supply chain in a more competitive position.
"This is a great location, it has rail access, proximity to our bird growers and is in the heart of corn growing country in North Carolina, giving us better access to local corn production," Heeder continues.
Locating the facility in Scotland County was welcomed by the local community and county officials.
"We call it the Scotland County feed mill because Scotland County helped us to get everything we needed to build here," says Adam Downes, director of agribusiness.
Lonnie English, regional feed mill manager of North Carolina for Mountaire Farms adds, "Scotland County is a Tier 1 county, and this allows them to get grants from the state we were able to use."
Mountaire Farms has committed to the community in kind. So far, the company has hired 60 locals, consisting of 33 feed delivery employees and 27 feed mill employees, to run the site.
Clearing the range
Once the need was determined, they selected Younglove Construction LLC out of Sioux City, IA, to handle the design, construction and project management for the new site.
"Younglove built the company's mill in Candor, NC, and that had been such a positive experience, we still had a good relationship with them," says Downes.
The site of the mill is next to a military base on what was once a targeting range for anti-tank rocket launchers. The location led to unique problems when the preparation for construction got halted after a piece of unexploded ordnance was unearthed.
"The Army Corps of Engineers could not assure us that there were no more live ordnances onsite, so we had to bring in a team of specialists," says Heeder.
Once they had the all-clear, Mountaire broke ground on Nov. 11, 2017. Construction managed to follow the original projected 18-month timeline for completion. The building process stayed on track even though Hurricane Florence and a second major tropical depression that roared through the region in September 2018.
The high chance of extreme weather hitting the location was a factor in Mountaire choosing to invest in a facility composed entirely of concrete. The slipform construction of the mill, the wet silos, the silo to house the hammermills, and the bulk ingredient silos were all done over three separate pours.
With the main structure complete, fat tanks that feed the fat coater from APEC, Lake Odessa, MI, got put in place. Warrior Mfg., Hutchinson, MN, fabricated the support towers, conveyor trusses, bridges and other structural steel components from part of the steel web around the outside of the mill. Completing that web are high-speed bucket elevators and drag conveyors from Schlagel, Inc., Cambridge, MN.
Built for speed and efficiency
Feed ingredients will come into the mill by truck or by train. Truck drivers will have their load sampled by a Gamet Mfg., Brooklyn Park, MN, truck probe and tested within the gatehouse while being weighed on the inbound scale from Rice Lake Weighing Systems out of Rice Lake, WI. After the driver receives a confirmation to proceed, they will move to the truck dump pit. At least some trucks will, while most will unload at one of the twin 25,000 bushels/hour receiving pits located in a covered split on the loop track.
"At the track pits, after one hopper of a trailer is opened, during the walk to open the second hopper, that first hopper has emptied," explains Downes. "We talked to our farmers that are in this area about what they value — and they value time. The quicker they can scale in, unload, scale out and get back out to their field, the better off they are. Time is money, so we wanted to be able to get them in and get them out."
The reason for the split track is so the company can unload two rail cars on the 25,000 bushels/hour receiving pits. Workers use a Trackmobile, Lagrange, GA, railcar mover to position rail cars over the second pit. The unloading time for a railcar is a mere four minutes. A 90-car train can arrive, get unloaded and then depart in just eight hours.
As grain arrives at the facility, it is conveyed by a 25,000 bushel/hour bucket elevator to one of four 30,000-bushel wet tanks. The grain then moves to a 5,000 bushel/hour grain dryer from GSI, Assumption, IL , before being stored in one of two 490,000-bushel concrete silos.
There is also an area dedicated to bag storage. Local growers can bring grain in at harvest, and the mill will have a spot to store it until needed.
"There was a lot of design work that went into the traffic flow to the bag storage area," says Heeder. "We wanted local farmers to have the best experience they could have working with us. We decided to be able to function as a full-service elevator for the local farmers."
The feed mill has 3,348 tons of ingredient storage spread across 25 ingredient bins with room built into the existing structure to add 12 more, bringing the total storage up to 4,778 tons. Adding smaller quantities of ingredients is done at a hand-add station or through the 24-bin micro ingredient system from CPM Beta Raven, St. Charles, MO.
The 8,000-bushel side lap discharge built into the primary bulk grain storage silos, feeds two CPM Roskamp Champion, Waterloo, IA, hammermills, with a combined output of 130 tons/hour and room for another hammer mill to be added.
A 180 ton/hour 10-ton batch mixer from Scott Equipment Co. , New Prague, MN, uses mixer profiles and an automation system from CPM Beta Raven to gather ingredients from across the mill to start the mixing process.
"The mixing system is amazing," explains English. "A team member sets a form in the control system, the system pulls the ingredients, and dumps them into a 10-ton mixer. The mixer mixes up the ingredients within two minutes. Once mixing finishes, the system sends the result over to the mash bin at pellet mills."
Two 90 ton/hour CPM pellet mills draw from the mash bin to create pellets. The pellets are then cooled by 90 ton/hour CPM Roskamp Champion horizontal coolers. The pellet elevator then carries it to one of 28 finished ingredient bins that can hold a total of 5,582 tons. There is room to add a third pelleting line already built into the mill.
The ingredient bins then fill feed bodies that come into the mill two at a time in five minutes. The speed is necessary for the facility to accomplish its goal of loading 15 to 20 trucks every hour.
"We can haul some feed out of here," explains English. "On average, a driver should be able to run six loads a day . We employ 33 drivers here; if each one does just the six loads, we can put out 198 loads a day."
The control system and inbound and outbound scales make it possible to achieve accurate loads as quickly as the feed mill needs them.
Building for the future
When Mountaire designed its new facility, it didn't just talk about future development, it designed future expansion into the facility.
"The idea was to build for expansion," explains Heeder. "The mill has the space to expand already built into itself. Right now, we can produce 18,000 tons of feed every week. When the mill is expanded — not if the mill expanded — it will produce 27,000 tons of feed every week."
Long-term planning for the new feed mill is an investment in the future of Mountaire Farms, Scotland County and U.S. agriculture. One that will pay dividends as Mountaire continues to grow.
"Mountaire Farms is not only trying to make sure that it can handle the needs of today but know that it can handle the needs of the future," says Heeder. ■