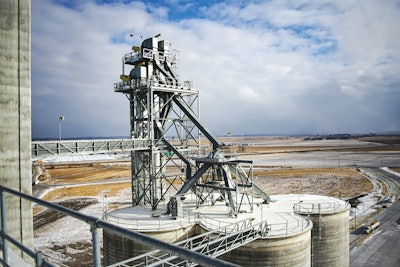 In 1976, Price Club opened its first store in a retrofitted air hanger in San Diego, CA. The new retailer found it could achieve greater buying power by selling in bulk to small businesses and select customers. The idea birthed the modern warehouse club industry. In 1993, Price Club merged with another warehouse club — Costco.
Costco is known for keeping prices low and quality high on signature products. One of Costco's most popular items is its precooked rotisserie chicken, which it sold 91 million of last year. To keep its rotisserie chicken at the $4.99 price point its customers expect, Costco had to go further than finding efficiencies in the supply chain or leveraging its enormous buying power. The company decided in 2016 the best way to keep prices down and quality up was to build and own an entire chicken supply chain.
Laying the groundwork
First, the company had to figure out where it wanted to build the epicenter of its future project. It chose Fremont, NE, an industrial town 35 miles west of Omaha and just over 50 miles from Lincoln. Shortly after the location was selected,
Costco formed Lincoln Premium Poultry, naming it after the capital of Nebraska.
"When Costco decided to pursue completely owning its product, it knew they did not have the chicken expertise," explains Jessica Kolterman, director of corporate and external affairs for Lincoln Premium Poultry. "It brought in Walt Shafer, our chief operating officer, and Bill Crider, our chief executive officer who have both been in the chicken industry for a very long time."
Nebraska is well known for its massive row crop farms and beef production, not its poultry. The company was able to recruit industry experts from other states, but they had to sell the advantages of the poultry industry to the local producers.
Roadshow
Lincoln Premium Poultry's new feed mill has no access to rail and relies on trailers and feed bodies to move product in and out. Luckily, Nebraska is a leading producer of corn and soybeans, so the company only had to convince grain growers to bring their product to them.
"What sold me on joining this project were the synergies it created that aid in growing our rural economy," explains Kolterman. "Not only does the complex create 1,000 jobs in a rural community, but it also creates the opportunity for farmers all around to bring their grain to another facility. Hopefully, our presence will have a positive effect on grain prices."
The possibility of a new market convinced the local growers to give this new industry a chance. The harder sell was convincing local producers in a beef state to consider raising white meat. Nebraska had almost no poultry operations, so like the complex, the company had to it build from scratch.
"We did our roadshow around the region," says Kolterman. "We explained the whole process of what being a contract grower was, and how it would work with us. Farmers then decided if they wanted to invest in barns. We're very fortunate there were a lot of pioneer families, who said, 'yeah, we want to do this and grow with them.'"
With commodities sourced and contract farmers ready, the final step was convincing the locals of Fremont, NE, that Costco and Lincoln Premium Poultry were going to be good neighbors. Like any significant change, this took time, but the company was committed to Fremont being its home.
"This project went through a long public approvals process," says Kolterman. "There were public hearings to approve the feed mill, hatchery and processing facilities along with the development of the land, roads, infrastructure, environmental compliance and other aspects. But now we feel like the community is really started to embrace us. More than 5,000 people went through our open house, and the feedback we've received has been nothing but positive."
Weather delays
Lincoln Premium Poultry broke ground on its new hub in June 2017. The complex is home to a hatchery, chicken processing facility, feed mill and the corporate office space. When at full capacity, the complex will produce 2 million chickens/week and provide 40% of Costco's rotisserie chicken total sales.
To support the new poultry operation, the company built a feed mill capable of producing the feed formulations needed to ensure a quality, consistent product. The company contracted Younglove Construction, of Sioux City, IA, to build the mill.
"Younglove was a fantastic partner," explains Kolterman. "But, like any new operation this size, there were things we had to learn as we went Aspects of the mill were changing up to the opening."
The weather did not cooperate with construction. Historic flooding in Nebraska during the spring of 2019 ruined fields, drowned buildings and infrastructure, and inflicted billions of dollars in damages.
"The entire facility became surrounded by water," explains Mark Wagoner, quality assurance supervisor with Lincoln Premium Poultry. "We built everything above the floodplain, but you had to cross a moat to get to the buildings, almost
halting construction. Once the floodwaters subsided, it took time to fix the minor infrastructures around the buildings."
"Even without the flood, the weather caused a lot of setbacks," says Bill Kreifels, feed mill maintenance manager for Lincoln Premium Poultry. "It pushed the final open date out almost four months from what we were originally planning.
We wanted a month and a half to test feed formulations, but by the time the mill was ready, we only had a week and a half."
Meeting expectations
Once the fields had dried, what remained was a world-class feed mill capable of meeting the needs of its partners, millions of birds and the customers who will eventually consume them.
Part of the effort to bring in growers was emphasizing speed in all aspects of the facility. When a grain trailer arrives at the facility, it gets probed by a Gamet Mfg., Brooklyn Park, MN, Apollo Model 17 core sampler before moving onto a truck scale from Rice Lake Weighing Systems of Rice Lake, WI. After being weighed, the truck moves forward to one of two receiving pits. The dumped grain is taken away by a conveying system rated at 15,000 bushels/hour that consists of a network of drag conveyors, diverters and bucket elevators built by Warrior Mfg., Hutchinson, MN, with Tiger Tuff CC buckets from Maxi-Lift , Dallas, TX, and Bunting Magnetics, Newton, KS, magnets placed throughout the system to collect any errant metal. The system also incorporates a massive Model E distributor from Hayes & Stolz Ind. Mfg. Co., Burleson, TX.
Once unloaded, the truck gets weighed by another truck scale and can return to the farm for another load. The total time from probing to being back on the road is seven minutes.
Feeding hungry birds
Once the ingredient moves to one of four 102,000-bushel concrete silos or a 80- to 157-ton ingredient bin, it starts to be processed into one of nine feed formulations. The raw bulk ingredient — predominantly corn — is moved by screw conveyors from WAM, Lawrenceville, GA, and Warrior drag conveyors from one of the concrete silos to one of two hammermills. The hammer mills are from CPM Roskamp Champion, Waterloo, IA, and can crush 56 tons of corn/hour. The corn is then conveyed to a CPM Roskamp Champion rollermill to complete the crushing process. After the corn is milled, it gets conveyed up the main building to a Hayes & Stolz Model E distributor and sent to storage or directly into the mixing process.
The crushed corn combines with other ingredients from the facility's 21 ingredient bins, two 10-bin CPM Beta Raven, St. Charles, MO, microingredient scale systems and the mill's hand-add station. The mixture is conveyed to a massive Scott Equipment Co., New Prague, MN, twin-ribbon horizontal drop-bottom mixer. Once finished, the mixture is weighed and sent back up to the top of the mill and sent through a CPM Roskamp-Champion gyro sifter to remove any unwanted material. After cleaning, the mix moves to an ingredient bin or finished feed bin, depending on the formula.
If the feed is moving on for more processing, it is sent to one of two pelleting lines. The mixture will pass through two CPM conditioners before reaching a 90-ton/hour CPM pellet mill. The pellets drop into a Bliss Industries, Ponca City, OK, pellet cooler, then follow different paths depending on the formula.
One path leads to a 90-ton/hour CPM crumbler and on to a finished feed bin. On the other, pellets are sprayed with a blend of liquid ingredients by an APEC, Lake Odessa, MI, coating system if the pellets need a fat coating, then sent to a finished feed bin.
When the mill is ready to load a feed body, the finished feed goes to a 9-ton-capacity hopper in one of two loading bays. The body is then loaded, weighed and sent to the farm in as little as 8 ½ minutes.
Ramping up
A system from CPM Beta Raven automates the entire process, but the feed mill still employs 22 mill staff, and plans to add up to eight more once they implement another shift.
"Eventually, the mill will be running 24 hours, five days a week," says Wagoner. "We will be sending out an average of 100 trucks worth of finished feed every weekday."
The entire complex is still in the process of ramping up production. Just last year, Lincoln Premium Poultry had only 70 employees. Now production has started, and the number has ballooned into 700. When they are at full capacity, the company will employ more than 1,000 people at its complex. The company has found its values work as well with 700 people as it did with 70.
"Costco's and our values are always obey the law, take excellent care of your employees and have a mutually respectful partnership with all your vendors," says Kolterman. "Their model is to treat employees well through compensation, making sure they're provided the opportunity for health care and making sure they get the support they need in their lives."
Lincoln Premium Poultry will rely on those employees when they reach their goal of processing 2 million birds/week. But even when it hits this goal, the complex will only be able to produce 40% of Costco's rotisserie chicken demand in the U.S., so more growth may be ahead. In time it may be enough for Nebraska to be recognized as a chicken state. ■