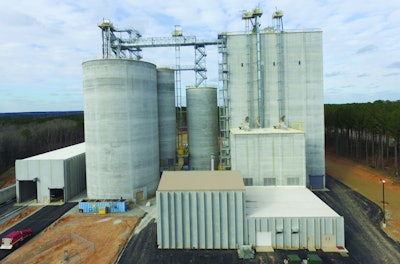 When more Americans made their livelihood from agriculture, the heart of a small town was often the local grain elevator or feed mill.
These were facilities that not only allowed a producer to stay in business but also the place they had been going to their entire lives.
The feed mill and grain elevator are where producers' parents or grandparents would bring them to do business, have a cup of coffee, catch up with industry news and chat with old friends.
With fewer people directly in agriculture today and rural communities losing population because of it, the days of a grain elevator or feed mill as the social heart of a town might be passed. Or maybe not.
For many in rural communities across the nation, a feed mill or grain elevator still consistently delivers opportunities for growers and other residents.
Born in a small town
Harold Harrison, the founder of Harrison Poultry Inc., was one such customer of small-town feed mills when raising chickens. After serving in World War II and developing an interest in poultry production while teaching for UGA's Veteran's Farm Training Program, Harrison began growing and selling chicks to local feed dealers.
Depressed poultry markets in 1954 forced Harrison to pivot to the cultivation of boilers, and by 1955, he expanded the hatchery and broiler business to 150,000 birds per week.
Harrison continued to integrate his operation, building his processing plant in 1958 and his feed mill in 1966. In just over 20 years, Harrison went from selling chicks to his local feed mill to building and owning one of those feed mills himself. Small town businesses led to opportunity, which led to Harrison Poultry Inc.
Harrison Poultry now has more than 1,000 employees and contracts with more than 100 growers. It has contributed $100 million to the local economies where it operates.
The company produces roughly 315 million livestock pounds of chickens per year with a mix of whole birds, bulk chicken parts and boneless chicken items.
Harrison Poultry continues to work in the communities where it began. The company's new feed mill in Crawfordville, GA, provides opportunities like those that were provided to Harold Harrison.
Building a plan
When talking about Harrison Poultry's old feed mill in Winder, GA, Nick Strange, corporate projects manager for Harrison Poultry, speaks of a mill at the end of its life.
"We were landlocked. There was just nowhere new to expand and what was there wasn't worth expanding because, if you bolted anything to the wall, it was going to fall over," explains Strange.
In the fall of 2014, Harrison put together what Dave Sailors, feed mill manager, and Strange thought was the ideal feed mill. They wanted the room to expand versus a mill that would handle current production.
The group put the mill they wanted out to bid. They chose Hogenson Construction Co. because they were flexible with their design. Soon after, chicken markets declined, and the company scrapped the feed mill plans.
In 2018, building a feed mill was once again an option. That year, the board for Harrison Poultry decided to revive the previous plans for a new feed mill. The company's current mill ran 24 hours a day, seven days a week, with no room for upgrades.
If Harrison Poultry continued to prosper and grow, it would need a new feed mill so the board approved the multi-million dollar complex. Hogenson Construction Co. once again had the most bang for the buck, and Harrison Poultry prepared to break ground in October 2018.
If Harrison Poultry continued to prosper and grow, it needed a new feed mill, so the board approved the $53 million compound. Hogenson Construction agreed to honor the plan and price quoted in 2014, and Harrison Poultry prepared to break ground in October 2018.
Harrison Poultry's comment to building in Taliaferro County, one of the least populated and most economically challenged counties in Georiga, gave it plenty of options for selecting a location. The original site that Harrison Poultry chose for the feed mill, a spot 10 miles west at Union Grove, GA, fell through due to restrictions on building heights.
The company was flexible, and the county helped them find land that would meet Harrison Poultry's needs while keeping the location within the county.
A county-wide project
"There hasn't been any real resistance in Taliaferro county. The county was very friendly, easy to work with and also helped us secure some grants through the state with the aid of the local government," says Strange.
The new site had three things Harrison knew it needed, access to rail, room to expand and close proximity to the company's growers. Around 50% of the company's chickens are located within 20 miles of the new mill. As Harrison continues to grow in the future, farms will be added closer to the site.
October 2018 saw unseasonably wet weather and the site, a thick pine forest, had to be cleared. The weather made the work slow, and even though Hogenson was on the ground in October, it was late December before construction could begin.
The construction went as well as any project, says Strange. Hogenson Construction and the multiple contractors were easy to work with.
"Just like any build, you get little hiccups along the way," says Strange. "Between David and myself, we have over 80 combined years of experience in milling, and one thing we stated from day one is, we know what works and we know what doesn't work, and so we avoided those pitfalls."
Ready for expansion
Harrison Poultry's new feed mill is impressive and an essential part of the company's long-term growth plan. The mill produces 7,000 tons of feed/week and has the capacity to produce over 12,000 tons once it is operating three shifts, five days per week. Bulk materials are brought in through a massive 1.5-mile loop track with two sidetracks for soft stock ingredients.
Grain is milled, ground and mixed in 12-ton batches and pelleted on two processing lines. Finished feed is shipped to farms with Harrison Poultry's fleet of trucks. Those trucks are housed and repaired onsite in a separate fleet maintenance shop.
As you walk through the mill, the amount of space becomes noticeable. That's because the mill was built ready for expansion in mind. Another pellet line can be added when volumes increase above 12,000 tons/week.
"Right now, we can double-shift the plant and make all the feed needed, enough for 1.3 million birds a week," says Sailors. "The maximum weekly kill at the processing plant is about 1.6 million birds a week, and we would have no issue feeding them all."
"After that, the mill would be at or production capacity of 12,000 tons/week," continues Sailors. "If we were to build another processing plant, the third pellet line would need to be installed. Currently, we are fully staffed and have hired several employees from the Crawfordville area. With employee issues country-wide, we have been fortunate to fill the open positions in a timely manner and have several applications on file."

No matter what the future labor market does, if automation can help overcome that shortfall, Harrison Poultry's new mill puts them in a position to capitalize on opportunities. It is also a shining example to those in rural communities that great things can come from small communities and there are still opportunities for those who live there. ■
Harrison Poultry, Crawford Feed Mill
Will produce 14,000 tons of feed/week with the capacity of producing 21,000 tons/week if a third line is installed
Soybean storage will have capacity to hold 5,000 tons
Other ingredient storage will have capacity to hold 3,515 tons
Truck receiving rate will be 240 tons/hour
4,108 tons of finished feed storage
Mixing rate of 240 tons/hour
Capacity to hold 1,000,000 bushels of corn
Rail receiving rate is 45,000 bushels/hour