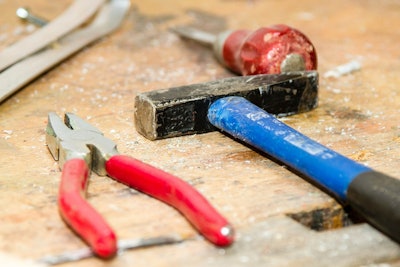 As yields in the fields grow and grain storage and processing facilities work to keep up, operators of those facilities are increasingly finding themselves in need of expansion or renovation.
Those in the renovation and repair industries are seeing feed mills looking to increase the speed at which they can process grain. And some facilities are bringing once-retired facilities, including grain silos, back to life.
"There have been big crop yields, and we're seeing a lot of silos that were taken out of commission being renovated to make them useable again," said Greg Wurst, chief executive officer of C-Tec Ag, a silo repair and construction company based in York, NE.
Dick Kobetz, P.E., president of Sunfield Engineering, a facility, process and structural engineering and design firm based in Cedar, MI, is seeing companies upgrade their receiving, grinding, batching and mixing operations.
"They need to get more tons per hour through the same plant," Kobetz said.
Those types of projects can be far more complex than they look on the surface. Renovations can take longer, cost more and disrupt business in ways in which operators may not be prepared. What looks like a simple silo concrete repair from the ground might require intensive structural repairs. Replacing a custom-built piece of equipment might mean the need for more space.
Some preplanning and proper expectations can go a long way in turning a complicated project into a success that doesn't disrupt operations or break the bank.
Timing is everything
No matter how long a project seems like it might take, it's wise to expect it to take longer. Materials can be delayed, weather can halt work, and what looks like a minor problem can turn into something much larger.
Laura Schulz, vice president of operations at CCS Group, a concrete specialty company based in Seward, NE, said grain storage and processing operators have dates when they need construction complete and the facility to be up and running. Making sure that target is practical is one of the first things the company should talk about with engineers and contractors.
"If it is a limited amount of time, they need to say that upfront and get their contracts done as soon as possible," she said.
Trying to squeeze a project into too small a window will inevitably lead to problems with the facility operating at full capacity on time or a contractor needing to wrap up early, only to have to come back later to properly complete the work.
"Making sure you leave yourself the time to do it properly really saves money in the long run because you're not paying for a bunch of rework and making changes at the last minute, and people aren't stepping all over each other to do everything all at once," said Derek Jacobs, structural department manager at ADF Engineering, a process and facility engineering firm based in Miamisburg, OH. "Even if we can just turn your design around in a day, we have certain lead times. There is a lot that goes into the renovation process that operators don't understand the full timeframe of."
Many renovations in feed mills and storage facilities require special components, which always take time to manufacture and deliver.
"We can make a lot of things happen, but if we can't get an I-beam to put in the structure, our hands are tied," Wurst said. "It can take several weeks to a month to get it fabricated, and just because of that one item, it delays a whole project. And then it can't be done in the time frame they want it to be done in."
On top of all that, there's always Mother Nature to contend with. Since certain portions of a renovation are happening outside, unfavorable weather will likely add at least a few days to the mix.
"They have to put weather into the equation. If the work is being completed outside, you never know what Mother Nature will throw at you," Schulz said. "If they run into an engineering oversight or the design doesn't work, or there is bad weather, that deadline is going to be extended."
Prior proper planning
During any sort of renovation or expansion, there will be a lot of moving parts once contractors are on-site. A few meetings and some communication prior to shovels in the ground can make a significant difference.
Jacobs recommends going into the facility's library and pulling any building specifications going back to original construction. That, along with changes made over the years, can be valuable for engineers determining how to fit in new equipment. Communicating changes that might not be reflected in drawings is also important.
"We're able to go right in there, model the existing facility and model the renovations we need to make," Jacobs said. "Knowing where those undocumented changes are, how those might affect things, giving the engineer that as a heads up is important."
Space is a critical factor when it comes to adding new machinery to a facility. That's why engineers and designers cannot stress enough the importance of meeting with them before ordering a piece of equipment.
Steve Minnich, business development manager at ADF Engineering, said he recently worked with a client who had special ordered a processing line from overseas before consulting him. Already on its way, Minnich modeled the space and added the new processing line to the model.
"It's 12 feet too long," Minnich said. "It will need to be shifted at least 10 feet to make it work, and it will get into an office."
Thinking long term is also key. The needs a facility has today might not be enough for the future, and moving ahead with one part of an upgrade might not do much for work flow if the entirety of the operation isn't considered.
"When they're spending the money to do the renovation, they should look down the road to see where their capacities will be in 10 years. Build to try to meet future needs rather than what they need right at the moment," Wurst said. "Some of the downfalls we've seen: They upgrade their leg, but don't spend the money on correcting their spout capacities or flows, so they have a choke point. They can speed it up, but they still have a weak link in the system."
Operators should also work with engineers to make sure that the facility is structurally capable of handling any increased processing or movement of grain into and out of bins.
"Through the years, the only things that have been updated from a lot of these facilities are the mechanical parts," said Steve Walter, president of Trisco Systems, a building exterior restoration company based in Lima, OH. "Bins are loaded and unloaded faster and more often than originally intended. That can cause strain."
Competent contractors
It goes without saying that any renovation or repairs should be done by a qualified contractor. But knowing what to look for isn't always easy.
Schulz said to start with the basics and ask for references. Having no references should be a red flag.
While it's unlikely that a person who has agreed to be a reference is going to give a bad review, the answers can be helpful nonetheless. Ask those references what went well, what didn't and if they could give any advice on how to best work with the contractor.
Next, check out other facilities that have had similar work done and ask who they used and whether they were happy with the process and finished product.
And get a second opinion.
"Another engineer might have an easier way to do it, or a contractor might have a quicker way to complete the repair," Schulz said. "That can save money, too."
Walter suggests checking the Occupational Safety and Health Administration's experience modification rate, or EMR, for a contractor. It can give an indication of the safety record for the company.
Once a contractor is selected, work with that company's management to plan the details of the project. When will people be onsite? Where will construction traffic flow? How will operations be affected during the work? What permits need to be obtained and by what date? Is there a need to close off space for construction staging?
"Any of that upfront planning is far worth it because then when you're doing the project, you're not trying to figure out how the flow is going to work," Wurst said.
Paying for it
The possibility of delays and increases in a project's scope are likely to have some effect on the overall cost. Preventive maintenance is often more expensive than people realize as well.
"Sticker shock is generally something that happens, especially in smaller corporations," Schulz said.
She recommends getting at least three bids, but also making sure they all match up. One bid might be lower, but that doesn't mean the company is promising the same quality as another.
Kay Kobetz, vice president at Sunfield Engineering, tries to show clients all the options and then work with them to decide what they really need and what they can live without.
"We try to give them everything they want, but we know when we show them the price, they're going to say 'that's too much,'" Kobetz said. "You make it so they can look at the numbers and we lay out each component individually and prioritize. It gives them a blueprint for how they want to invest and spend their money."
Dick Kobetz, president, Sunfield Engineering, said owners and operators should remember that little things add up, especially if you're not planning well.
"Every now and again, you get someone who wants to rush into something and thinks it isn't going to cost anything, or has rushed into buying a piece of equipment and wants to know how to make it work," he said. "In a renovation, there is always a lot of detail work. There are always surprises. You have to have a contingency."
That said, Minnich said to ask questions about how to spread out the work, if that's possible, to soften the financial blow from happening all at once.
"If they only have so much capital per quarter, you can phase it out over different budgets," Minnich said. "They don't have to do this all at once and take a major hit. We can space this out over time so that they can access capital."