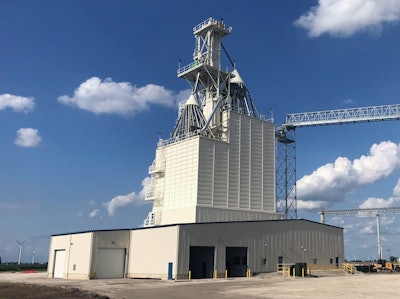 For almost a decade, the team at Synergy Feeds, headquartered in South Whitley, IN, has provided full nutrition and consulting services to swine and dairy businesses throughout Northeast Indiana and Central Michigan.
Synergy Feeds is a 50/50 partnership between Ag Plus and Ceres Solutions (formerly North Central Co-op), which was started in 2009. Since then, the company has continued to grow and expand with most of its deliveries averaging within a 100-mile radius.
Location adds efficiency
Synergy Feeds has two facilities — one in South Whitley and its latest mill located in Edgerton, IN.
The feed mill in South Whitley was operating 24 hours, five days a week and pushing maximum capacity when the decision was made to add a facility. Brent Tracey, general manager of Synergy Feeds, says the company was determined to establish a plan to allow the business to expand while maintaining high quality product and exceptional customer service.
"Our business has grown consistently over the past 10 years," says Tracey. "We knew with continued growth of our feed business, we would reach our maximum production capacity at some point in 2019."
Ag Plus, one of the two cooperatives that own Synergy Feeds, owns a grain facility in Edgerton, IN.
"We determined this location would provide an ideal site for a new feed mill to allow our business to continue to grow," Tracey continues. "Virtually 50% of the feed we were manufacturing in South Whitley was being hauled to the Edgerton area, so the location was a perfect addition to further improve our operational efficiencies."
The new Edgerton facility will produce mostly swine feed, says Tracey.
Edgerton construction
AGRA Industries, Merrill, WI, was chosen for this project for its design-build abilities, says Tracey.
"They were recommended by one of our parent companies, Ceres Solutions," he says. "Ceres had worked with AGRA on building its new mill in White Cloud, MI, a few years ago."
One of the benefits of AGRA is its vertical integration, says Tracey.
"That takes the pressure off companies like us, that don't have experience selecting equipment and building new facilities," he says.
The construction phase began in mid-February 2019 with the pouring of the basement.
The early phases of the project had its challenges. Heavy rains washed away the primary excavation area — twice.
"Weather is always a challenge when you build something," says Tracey. "Between wind, rain and ice, the construction teams battled through the multiple seasons by scheduling their activities around it."
Despite the attacks from Mother Nature, the feed mill went up quickly and began commissioning in March. The main batch runs began in April.
"AGRA used a proven design that still met the needs and capacities we were looking for," he says. "This kept the capital cost down to a justifiable ROI."
Ernest Hinner, vice president of sales and marketing with AGRA Industries, says his company's design criteria focuses on operational safety, throughput, and accessibility.
"Walking around this Edgerton mill top to bottom, you quickly notice the easy access to maintain every piece of equipment involved in their production," notes Hinner. "Not one point of the mill requires more than a 6-foot ladder for maintenance."
Designed for expansion
When designing the Edgerton facility, the team kept future growth in mind.
"We chose steel because of the high cost of concrete, along with wanting to expand in the future," says Tracey. "Our mill is designed for expansion of more ingredient bin storage and even a future pellet mill."
Currently, the facility has 23 AGRA bolted bins with Vibco, Inc., Wyoming, RI, vibrators for bulk ingredient storage. AGRA also manufactured the micro-ingredient system, which consists of 20 stainless-steel bins, a Rice Lake Weighing System, Rice Lake, WI, load cell and Schlagel, Inc. Cambridge, MN, round-bottom drag conveyor.
Other equipment highlights include:
7,500 bushel/hour bucket elevator from AGRA
6-ton-capacity batch mixer from Scott Equipment Co., New Prague, MN
Gyro sifter/feed cleaner from CPM Roskamp, Waterloo, IA
12x52 quad pair roller grinder and 12x42 triple pair roller grinder from RMS, Harrisburg, SD
10,000-square-foot warehouse storage
The Edgerton facility's receiving system is designed for 7,500 bushels/hour and typically takes around 7 to 10 minutes to unload, depending on the ingredient.
"We have a fully automated loadout that uses dustless slide gates and cameras," says Tracey
Synergy Feeds has concentrated on quality assurance and safety as a high standard. Staying ahead of federal mandates for animal food safety, Synergy Feeds is able to track all ingredients from source to farm, including the delivery bin.
"All suppliers must be approved before we purchase any product from them," says Tracey. "All incoming bulk ingredients and outgoing bulk feeds are sampled and retained for six months."
While the Edgerton facility project got off to a slow start, Tracey says the mill is meeting expectations and he's looking forward to showing customers the state-of-the-art operations.
"This project had its own unique challenges," agrees Hinner. "But the Edgerton mill turned out great, and I'm proud to have been a part of the project team." ■