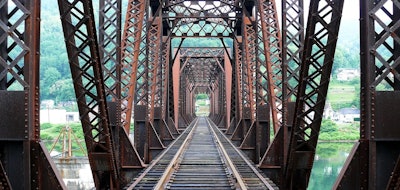 Beginning in mid-March, various parts of the Midwest were hit with blizzard conditions, excessive rainfall, and snowmelt. The result was severe flooding and significant transportation disruptions in recent weeks, especially for trucks and railroads.
Railroads have made substantial progress restoring operations across their network, but some outages remain. Ethanol and grain train speeds, origin dwell times, number of unit trains held short and cars not moved, were all significantly worse after the flooding.
Mississippi River conditions have been challenging for barge shippers, with numerous lock closures and limited or no transit under several bridges.
Flooding in the Midwest has had a significant negative impact on agricultural operations, including losses in livestock and stored grains from ruptured silos. This article from the USDA Grain Transportation Report highlights some of the impact on agricultural shippers.
It also provides the current status of the on-going recovery efforts from the transportation sector and closes with an outlook of the possible weather ahead.
Update on Operations by Mode
Rail: BNSF and UP have made major repairs and restored operations across much of their network. For instance, BNSF has used more than 100,000 tons of rock and aggregate material to restore washed out sections of track. (BNSF Network Update, March 29, 2019.)
Some corridors remain out of service. For BNSF, track between Omaha, NE, and Napier, MO, remains closed, along with portions adjacent to the Mississippi River.
For UP, track remains out of service from Council Bluffs, IA, to Kansas City, KS, due to high water. In addition, the corridor between Fremont and Lincoln, NE, also remains closed. Rail service metrics show the impact of flood disruptions on grain and ethanol rail shippers. In March, average BNSF Railway (BNSF) and Union Pacific Railroad (UP) grain and ethanol train speeds averaged 12% and 14%, respectively, below January speeds.
For the same railroads and time periods, grain and ethanol origin dwell times rose 167% and 218%, respectively. High origin dwell times indicate the challenges railroads and shippers have had in sending out their shipments from affected areas.
The number of grain and ethanol unit trains held short, as well as cars not moved, also rose significantly in recent weeks.
While there are no state-level, ethanol-specific service metrics, unfilled grain orders for rail service rose significantly following the Midwest flooding in North Dakota, Minnesota, Nebraska, Kansas, South Dakota, and Illinois.
Truck: Numerous sections of Interstates, U.S. routes, and state and local roads are closed in Nebraska and Iowa, mostly along the Missouri River between the two states. State governors and the Federal Motor Carrier Safety Administration have provided regulatory relief for commercial motor vehicle operations.
Qualified vehicles must be supporting emergency relief efforts by transporting supplies, equipment, fuel, and persons into and from Nebraska, Iowa and 14 other midwestern states or providing other assistance in the form of emergency services.
Free overweight and oversize permits are available for trucks involved in the relief efforts in Iowa and Nebraska, and fuel and trip permits related to taxes and registration have been waived.
On March 25, Supply Chain Dive reported the Midwest relief effort may impact freight rates on the spot market, as shippers compete for available truck capacity. However, on April 2, DAT reported that while volumes on the spot market increased, available truck capacity held rates in check the week of March 25- 31.
Rates for flatbed trucks are projected by DAT to continue their upward trend in April.
Barge: On-going flooding continues to disrupt Mississippi River barge traffic. The National Oceanic and Atmospheric Administration's (NOAA) Flood Outlook shows nearly the entire length of the Mississippi River has significant flooding (see map below).
As of April 4, there are 12 locks on the upper Mississippi River that are closed due to high water.
Another round of rain has the potential to push lock closures into mid-April.
In addition, barge traffic is stopped at the Louisiana, MO, Railroad Bridge (above St. Louis), preventing traffic from passage until the second half of April.
Barge movements are restricted to daylight only and require additional horsepower operating capabilities for the St. Louis Harbor. As a precaution for the safety of bridges, barge traffic is restricted to daylight only in several locations on the lower Mississippi River.
Maximum draft for ocean-going vessels coming in or out of the Gulf through the mouth of the Mississippi River at the Southwest Pass (SWP) is restricted to 42-feet due to shoaling. Ongoing dredging is being conducted by the U.S. Army Corps of Engineers at the SWP
to prevent vessel grounding and to maintain the channel to the required 45-foot draft.
With a growing number of lock closures, barge operators are reporting reduced demand for barge services, which is reducing spot barge rates.
As of April 2, spot grain barge rates for export grain originating from major shipping points were 17 to 29 percent lower than a week ago. However, barge rates have been above average for over a year due, in part, to persistent highwater conditions.
Current rates are 28 to 44 percent higher than the 3-year average.
Outlook
With the backdrop of ongoing flooding and high water along major U.S. river systems, NOAA released its spring flood outlook on March 21, forecasting widespread flooding to continue through May.2 The latest Significant River Flood Outlook from NOAA as of April 4 shows ongoing flooding along most of the Mississippi River, lower Illinois River, large sections of the Missouri River, and portions of the Dakotas.