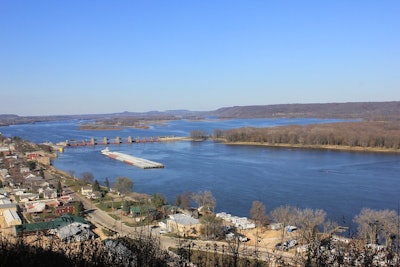 According to this week's USDA Grain Transportation Report, for the week ending May 11, high water conditions continued to disrupt grain barge movements.
There were no grain barge shipments transiting Mississippi River Locks 27 (above St. Louis, MO) and LaGrange Lock and Dam (L&D), near Versailles, IL, on the Illinois River.
Almost all down-bound grain barge movements were reported on the Ohio River, which doubled the total tonnage of grain barge movements (370 million tons) from the previous week for the Olmsted L&D.
As of May 15, the U.S. Army Corps of Engineers (Corps) reports Mississippi River levels in the Rock Island, IL, area and St. Louis, MO, area continue to recede from their crests and are forecast to fall from major flood stage to moderate flood stage.
Portions of the Illinois River are beginning to slowly recede, but will remain at major flood stage through the week of May 19.
Mississippi River levels in the Vicksburg, MS, and New Orleans areas are increasing.
On May 10, the Corps re-opened the Bonnet Carré Spillway to reduce flood risk to the city of New Orleans.