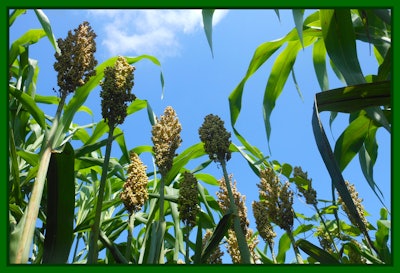 Nadia Shakoor, PhD, principal investigator and senior research scientist at the Donald Danforth Plant Science Center is part of the nationwide team that will work to quantify the climate impact potential of sorghum as part of a five-year, up to $65 million project lead by National Sorghum Producers (NSP).
Funding for the project was provided by a grant from the U.S. Department of Agriculture through its new Partnerships for Climate-Smart Commodities.
Sorghum traits that help mitigate changing climate

Sorghum is an incredible plant that holds great promise as a carbon-sequestering crop.
Sorghum's inherent traits such as drought tolerance, make it an ideal crop to positively contribute to both food security resiliency and the mitigation of impacts due to a changing climate.
Shakoor has significant expertise in sorghum genetics and has developed high-tech sensors to monitor plants' environments and growth in real-time.
Additionally, she serves as a principal investigator for the Sorghum Harnessing Plants Initiative (HPI), a collaboration between the Danforth Center and the Salk Institute for Biological Studies.
"Sorghum inherently boasts climate-smart attributes, and a tremendous opportunity exists to implement further climate-smart production practices and activities on working lands to achieve substantial carbon capture, reduce greenhouse gas emissions, and contribute to other associated environmental benefits," said Shakoor.
Exploring gene traits of sorghum
The project will explore the gene networks underlying the remarkable stress resilience in sorghum and seek to define the functions of critical genes and how they are regulated.
Drought tolerance is a complex trait and understanding its regulation in the broader context of the whole plant and its environment will require advanced approaches in genetics, genomics, phenotyping and gene editing.
"There is extraordinary genetic diversity underlying sorghum's adaptation to stressful environments, and we want to tap into this in a precise way to inform engineering and breeding strategies for future climates," said Andrea Eveland, Ph.D., associate member at the Donald Danforth Plant Science Center.
"We have little understanding of what most of the 30,000-plus genes in the sorghum genome do and whether functionally conserved genes have unique control mechanisms in drought-adapted sorghum -- this information could help efforts to make other crops more stress resilient too."
Eveland and collaborators will leverage this incredible genetic diversity found in sorghum to examine how responses at the molecular level, such as gene expression, lead to whole-plant morphological changes in response to drought stress.
Advanced genomics and gene editing methodologies will be used to help guide predictions of gene function in sorghum. In addition to genes, the "non-functional" genome space comprising the sequences that control gene regulation will be investigated.
In-field testing through sorghum growth cycle
To assess whole-plant morphological and physiological responses to drought in real-time, high-resolution, sensor-based field phenotyping will be conducted on a diverse panel of sorghum plants throughout their entire growth cycle, from seedling establishment to harvest, and all those data will be analyzed to link phenotype with genotype.
The research project will leverage a 30-ton robotic field-based phenotyping infrastructure at the University of Arizona's Maricopa Agricultural Center, which DOE ARPA-E funded in the TERRA-REF project led by Todd Mockler, Ph.D., Geraldine and Robert Virgil Distinguished Investigator at the Danforth Center, who is also a collaborator on the project.
"The Maricopa site provides a unique and exceptional opportunity to conduct managed drought stress trials due to the hot and dry environment and the capability for controlled irrigation," said Mockler.
"The field scanner system collects high-resolution sensor data for crop traits throughout the growing season."

Project includes portions of six states

The target geography of the project includes portions of six states and covers an average of 67% of the sorghum industry, or 4.4 million acres annually.
The area includes more than 20,000 sorghum farmers and is a region vitally important to U.S. agriculture.
The U.S. High Plains is the world's leading region for nitrogen use efficiency and mitigation of nitrate leaching, volatilization and runoff.
Sorghum is a primary tool in these mitigation efforts and incorporating the crop into rotations in this region can improve the carbon footprint of U.S. agriculture overall.
If sorghum producers can be reached with training on and be supported in implementing climate-smart agriculture practices on a large- scale across key sorghum producing regions, and climate-smart practices measured, monitored, and verified it will significantly help increase market channels for this climate-smart commodity.

Opportunities for underserved farmers

The project will also include a robust diversity and community outreach program that will focus on in-reach and outreach to underserved communities in the project target area with a primary focus of creating opportunities for underserved farmers to participate in climate-smart sorghum production and realize the benefits of ecosystem services markets.
"This is a watershed day for the sorghum industry," Tim Lust, CEO of NSP, said. "Sorghum is and always will be The Resource Conserving Crop. This award affirms that fact in historic fashion, and we appreciate USDA for the opportunity to realize sorghum's potential as a climate-smart commodity.
"For the first time, participating farmers will be fully recognized and fully compensated for the good work they do to improve the impact of agriculture on the environment," Lust continued. "We couldn't be more excited to come alongside them in this important effort."