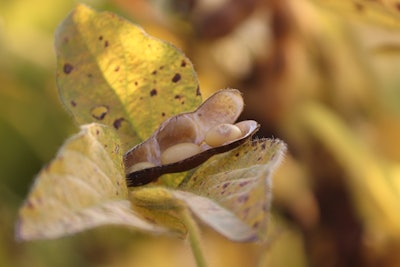 The U.S. Department of Agriculture (USDA) is reviewing factors used when grading soybeans and may be proposing changes to its U.S. Standards for Soybeans.
The USDA Agricultural Marketing Service (AMS) announced that the Federal Grain and Inspection Service (FGIS) will publish a proposed rule seeking public comment on a proposal to make changes to its standards.
Requests to remove color as a standard

Under the authority of the U.S. Grain Standards Act (USGSA), USDA established the soybean standards to help in the marketing of soybeans.
"Soybeans of Other Colors" (SBOC) has served as a grading factor for determining soybean quality. SBOC includes soybeans that have green, black, brown or bicolored seed coats.
Increase in SBOC
While SBOC is not new, in the last three to five years there's been a marked increase.
As of July, 25% of USDA certificates for U.S. No. 2 soybean or lower was due to SBOC, meaning the amount of SBOC in U.S. No. 1 soybean has increased threefold.
Unfortunately, because of SBOC, more and more soybeans are not making grade as No. 1 or No. 2 using current FGIS grading factors, making it harder for farmers to find markets.
SBOC is leading to rejections at either the origin or destination of these shipments. Furthermore, a high level of SBOC can result in monetary discounts on the crops.
USDA has recently received numerous requests from representatives of U.S. soybean producers and grain traders to remove SBOC, as a grade-determining factor for describing the quality for soybeans (e.g., U.S. No 1 Yellow soybeans, U.S. No. 2 Yellow Soybeans, etc.).
In response to these requests for changes to the soybean standard, USDA will implement notice and comment rulemaking, as required by USGSA, to receive comments from the public regarding whether SBOC should be considered an informational factor that does not impact soybean grade determinations.
CGI, NGFA working together to find solutions

Columbia Grain has been working with the National Grain and Feed Association (NGFA) and the North American Export Grain Association to navigate the hurdles presented by SBOC and find solutions for their producers and end users.
"CGI plans to actively engage on this topic to make our producers and others aware of the challenges," said Jeff Van Pevenage, CEO and president of CGI.
"It's our job to inform the producer about the markets in which their soybeans can be sold. SBOC increases risk for all in the value chain."
Study shows bean color has no impact on protein or oil content

Historically, SBOC levels are low, rarely impacting the grade of soybeans. At the request of the Grain Inspection Advisory Committee (GIAC), FGIS conducted a study to evaluate whether the presence of SBOC had an impact on the quality of soybean protein and oil.
The study found no significant differences in official protein or oil content. The study is available for review here.
Other countries don't use seed coat color as a grading factor

CGI is in favor of working together as an industry to conduct independent research to determine if functionality is impacted by seed coat discoloration associated with currently commercially available genetically engineered seeds, looking at the impact of coat discoloration on processing as well as on the nutritional values of soybeans and their products/ byproducts.
"Other major soy producing and exporting countries do not use seed coat color as a grading factor in their grading standards," said Van Pevenage.
"The U.S. is at a disadvantage compared to other export competitors because of SBOC and we are committed to addressing this issue to support our customers to continue our mission of nourishing the world, safely."
Kurt Haarmann, senior vice president of CGI's Grain Division, said his company takes great care in making sure it follows the grading standards set forth by the USDA to help assure that it can then meet the requirements when CGI sells the commodities purchased from its producers.
"We segregate grain and oilseeds to the best of our ability based on grade factors we are seeing and the requirements of the export market," he explains.
"Columbia Grain is actively working with other industry partners through our representatives at the NGFA and the North American Export Grain Association to address this problem with our buyers and the Federal Grain Inspection Service."
For more information about the proposed rule, contact FGIS Associate Deputy Administrator Andrew Ping at Andrew.Ping@usda.gov.