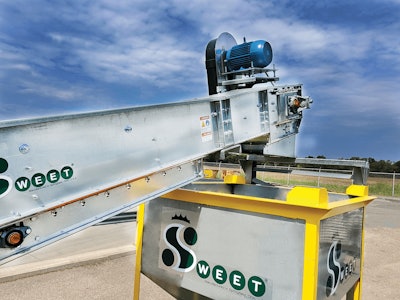 Planned obsolescence is not an option for those tasked with engineering products for feed and grain handling. Conveying system components like conveyors, bucket elevators, cleaning systems and sensors must be expertly planned and developed for safe and productive material handling, with measurable results.
End-users looking to dial up the capabilities of their conveyance equipment can find innovation at every turn — from the materials and design of the equipment itself to automated features. Upgrades like these add up and help to ensure an all-around safer and more effective workflow at grain handling facilities.
Smart construction
Conveyor manufacturers carefully consider unit size, materials and capabilities in an effort to help customers achieve trouble-free grain movement. This includes working on designing products that require minimal maintenance and upkeep.
Customer and dealer feedback for a "tough, low-profile conveyor" drove design on Sweet Mfg.'s Low Profile Flite-Veyor Conveyor.
"Sweet has built its reputation on its equipment being made here in the U.S. using all galvanized construction with U.S. prime steel and premium components," says Austin Parkison, marketing specialist for Sweet Mfg.
The low-profile conveyor was designed for applications that demand a durable and heavy-duty unloading system.
"Low profile" indicates the equipment can fit inside confined tunnels and underneath bins while being able to gain the elevation needed to feed another piece of equipment utilizing a 15º curve.
The product features a curved tail, fixed shaft and UHMW (Ultra-High Molecular Weight Polyethylene) lip seals to encourage greater product cleanout. Galvanized steel body construction, angle, returns and a take-up head allows the operator to make adjustments outside the bin.
When it comes to finding the right conveyor to retrofit an old system, Parkison says it's important that facilities consider the equipment's longevity.
Safer cleaning through automation
While bin cleaning is an essential task in grain handling facilities, it's also very dangerous. Because of this, manufacturers are finding new ways to reduce manual interference.
Sukup Mfg. Co. introduced its 5K and 10K Zero-Entry Commercial Paddle Sweeps to prevent operators from ever entering the bin.
"Paddle sweeps are designed to greatly reduce or eliminate any manual labor that must be done to clean grain out of a grain bin completely," says Sukup External Relations Manager Rachel Geilenfeld. "This is especially important in large commercial grain bins."
In addition to being a highly effective floor cleaner, Sukup's paddle sweeps incorporate a number of safety features and use the company's advanced zero-entry controls system.
As grain bins continue to increase in size, Sukup says the industry is even more focused on preventing grain entrapment.
"Large grain bin sweeps must be appropriately monitored and controlled in order to meet the need for zero entry," Geilenfeld says. "They must also be reliable to eliminate any bin entries for repairs."
The 5K and 10K Zero Entry Commercial Paddle Sweeps use variable frequency drives to power both the pusher motors and the motor for the paddles.
This fine-tunes the speed of the sweeps and prevents the sweep from overloading any downstream grain transfer equipment.
The Sukup control system easily integrates with other systems that must first provide an 'okay' status before the sweep can begin. Before starting, the sweep must receive common signals for sump gate open/closed status or downstream equipment running status.
"All motors are explosion-proof and use direct-drive gear reducers to eliminate any possibility of dust explosions or grain interfering with a belt or roller chain, which could cause significant damage," says Geilenfeld.
The company also integrated a plug switch into the center sump that communicates with their controls. This switch will shut down the sweep if a plugged sump is detected.
There are also safety upgrades in products tasked with monitoring conveyor belt cleaning.
For example, Martin Engineering's N2 Position Indicator automatically monitors conveyor belt cleaning blades as well as tracks and reports remaining service life, notifying Martin service technicians and plant operations personnel about any required re-tensioning or replacements or abnormal conditions.
Another new product, the Martin N2 Twist Tensioner, is an autonomous tensioning system that continuously monitors and delivers proper conveyor belt cleaner tension. Both products are designed to eliminate the need for manual inspection and interference.
The N2 Position Indicator is accessible by Wi-Fi or cell phone. The software tracks and displays blade status and type, remaining life, next scheduled tensioning, run time, wear rate, cleaner model and more.
The Twist Tensioner replaces a job that, until recently, was done by hand.
"Prior to this new design, belt tensioners had to be manually monitored and adjusted. In some applications on a daily basis," says Andrew Timmerman, P.E. and product development engineer at Martin Engineering. "The N2 Twist Tensioner automatically maintains precise cleaning pressure, without maintenance, and data is available remotely."
Easy-install remote sensor monitoring
Sensor monitoring is vital in conveyor applications to keep a close watch on things like bearing temperatures, belt brakes, overspeed, underspeed and standstill. But getting a sensor monitoring system up and running can pose challenges.
4B Components' latest product, the Industrial Ethernet Node (IE-NODE), harnesses the ease and availability of industrial ethernet technology to help plants easily and reliably install a robust monitoring system.
"Industrial ethernet will be the standard for communication and plant automation for many years to come," says Marissa Nalley, marketing coordinator at 4B. Leveraging ethernet means customers can install IE-NODE on their existing network infrastructures without hiring specialized contractors.

"As plants become ever more automated and PLCs are used as standard, there is an issue communicating with remote sensors around the plant," says Nalley. "These sensors are tried and tested in the field, however, they do not incorporate an IP address and are not easily integrated."
Nalley further explains each IE-NODE accepts up to 16 such sensors, including analog, digital, RTD or discrete and communicates the information collected to the plant PLC via PROFINET, ethernet/IP or Modbus TCP/IP. The IE-NODE communication capability makes network installation and future expansions easier.
The IE-NODE also has Class II Division 1 Group E, F and G approvals for dust hazard environments, allowing installation close to the sensors, reducing installation cost.
While IE-NODE's ease of installation, set up, testability and longevity are all standout features, Nalley reminds customers also to consider a product's suitability and approval for the dust hazard environment, as well as the quality and availability of support.

Future-ready businesses
Thanks to the agile design and automated features that reduce or eliminate the need for manual maintenance, maximize productivity and reduce downtime, today's conveyors and ancillary products are built to be increasingly safe, durable and compatible with existing infrastructure.
These products are built for years of service. And businesses that can embrace change while keeping safety top-of-mind are future-ready too. ■