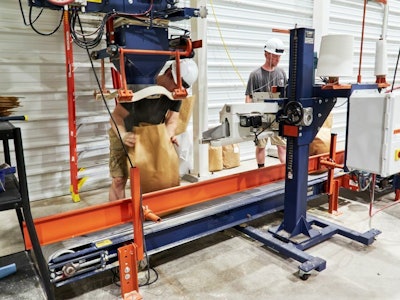 University of Illinois' fully automated Feed Technology Center exposes new generation to state-of-the-art feed mill innovation
The real-world, hands-on experience gained by students at the University of Illinois' Feed Technology Center (FTC) gives them a unique set of skills they cannot gain in the classroom alone, according to facility manager Leon Peters.
"The undergrads have the opportunity to work here as an employee so they can get direct hands-on experience with the equipment and the lines, programming and automation systems," he said. "So when they go out to find those internships or those jobs, they have real-world experience already underneath their belt, which is pretty good. They can have that experience and, being in a university setting, we can make mistakes here and we can learn from them; we're not in a full production setup where time down is money lost."
The FTC is a US$20 million, 12,000-square-foot fully automated feed mill in Urbana, Illinois, which became operational in March 2021 and produces research diets for the university, provides hands-on learning for students, and supports industry outreach and education. The mill employs three full-time staff.
"It's one thing to learn it in the classroom; it's another to work directly with it, hands on, being able to directly work on programming the robot and moving it around, making changes within the automation system and seeing how that affects those drags or those conveyors or even our mixes," Peters said. "Real-world experience is just something you can't always get from a classroom. And I think that'll help a lot for future careers and employers."
The facility features all new equipment and software, donated by companies such as Bühler Inc., JEM International, Wenger Manufacturing and Cablevey Conveyors.
"Facilities like this can really spark the interest of students that may have never considered this, and give them at least the curiosity to explore," said Maria Regina Cattai de Godoy, associate professor and Feed Technology Center fellow. "Over time, as they get exposed to different areas, they really have a change of heart, and they decide to move to different areas. And so I see this as just being another opportunity for them to explore and get in a profession that I find very rewarding, and also has a lot of good jobs out there that are fulfilling."
Godoy said she hopes the FTC exposes more students to the animal feed industry and gets them excited about working in it.
"A lot of the new generation, they're excited about technology, gaming, modeling, but they don't think about, 'Oh, this can also be applied to other things.' And so one of our main goals is how we can make them excited and say, 'Well, we can use all that tech knowledge and actually make a difference in terms of providing food security, safety,' to a much bigger crowd than you ever imagined," she said.
University of Illinois recently created a hybrid bachelor of science degree that is a combination of computer science and animal sciences.
"Most people would be amazed to find out how much technology is used in the ag field and to make animal feed," Godoy said. "This new degree was developed to bridge the gap between big data analysis in biology-related field. This is a rapid growing field that offers exceptional professional opportunities for well-trained students and professionals."
And, she added, the FTC can expose younger students to the animal nutrition and feed industries before they even get to college or decide on the career they want to pursue.
"We also have talked about how to engage students even before they are in college. So, can we reach out to middle schoolers and high schoolers and really bring them in and have some kind of a summer camp or something? … Maybe that will persuade them to say, 'Oh, this is something that I may consider,'" she said. "We also are thinking of, for our current students, how we can make them more savvy in terms of being multidisciplinary, of exposing them to different areas within the ag and food industry? I think this facility allows for a lot of that."
---
Announcing the Feed Mill of the Future digital supplement
WATT's feed brands Feed Strategy and Feed & Grain magazines join forces to launch the monthly Feed Mill of the Future digital supplement. Each edition aims to provide animal feed industry stakeholders with forward-looking content, market insights and a spotlight on the leading-edge technologies shaping the global feed industry of tomorrow.
Subscribe today! https://bit.ly/3dWzow7