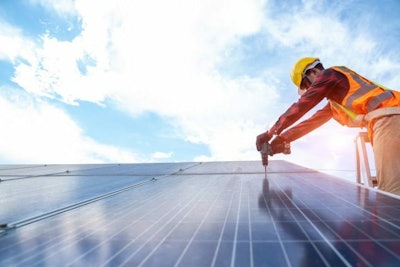 The Maschhoffs pork producers knew they had a problem even before the latest surge in energy prices. Despite concerted efforts to reduce their energy use, one of their feed mills in Griggsville, Illinois, simply couldn't cut back enough to remain cost competitive.
"We have another company feed mill in southern Illinois, which is across the street from our corporate headquarters, that is almost identical in size," says Paul Josias, associate director of procurement for The Maschhoffs. But the Griggsville mill's energy costs were more than double those of its counterpart, he says.
"It just makes it hard, when we measure how much does it cost to produce a ton of feed. All the input costs contribute to that, electric being one of them."
So about two years ago, The Maschhoffs began to explore an innovative solution: generating electricity for their Griggsville mill at their own private solar farm. The 11-acre solar farm, built in a field adjacent to the feed mill, began operations in late October, and The Maschhoffs and other experts behind the project believe it represents the first in a coming wave of solar-powered feed mills.
With the advent of rising energy costs and new incentives for renewable energy available from the states and federal government, the potential financial benefits of solar have become too large to ignore, says Jeff Haarmann, managing director of Affordable Gas & Electric (AGE), an independent energy consultant working for The Maschhoffs.
"If you had a US$5 million solar system and it's paid for in three years, you're essentially using that solar system for the next 25 years without paying for electricity," Haarmann says. And with current energy prices, he says, the time it takes for the savings to offset the cost of the array may be reduced to months in some cases.
"To be honest with you, if a feed mill is not looking at solar as an option, they're going to be wishing they had in three to five years," Haarmann says.
Power for '20 cents on a dollar'
There are legitimate reasons why feed mills, despite the potential benefits associated with solar generation, haven't been early adopters of alternative energy sources, according to Jim Shaw, president of Solential Energy, the solar developer on The Maschhoffs project.
Before recent events sent energy costs soaring, feed mills in most parts of the U.S. enjoyed reliable, low-cost energy delivery from their utility company. Electricity costs have remained relatively stable and, in many cases, feed mills could negotiate reduced bulk rates from their electricity provider.
This wasn't the case for The Maschhoffs' Griggsville mill. Because the mill is located in a rural area —about an hour west of Springfield, Illinois — the mill is served by a small electrical co-op that couldn't afford to offer a lower-priced contract. So AGE crunched some numbers for The Maschhoff's and realized that the mill qualified for a state-run solar program that could reduce the cost of a solar array to "20 cents on a dollar," Haarmann says.
But electricity costs and incentives weren't the only factors that made the Griggsville mill an ideal location for a solar farm. The mill also operated on a schedule that meant its peak power demand occurred during the day, which matches up well with solar production — solar panels, after all, can only generate electricity when the sun is shining.
On top of this, The Maschhoffs has long emphasized environmental sustainability within its operations, so the solar farm represented a potential win-win solution for the company's financial and environmental goals, Josias says.
Solar considerations
Although solar was a natural fit for The Maschhoffs, they still had to work through a number of challenges to bring the project to fruition. First, Haarmann says, it was essential to ensure the Griggsville mill was already as energy efficient as possible. If a mill is using outdated equipment or lighting before installing solar, it could end up with a solar installation that is larger than it actually needs — resulting in unnecessary costs.
Once the mill itself was ready to go, The Maschhoffs had to locate a plot of land large enough to accommodate the 6,800 solar panels they hoped to install. Constructing the solar array on the site of the mill itself wasn't an option. Compared with the mill's electrical consumption, the number of solar panels the mill itself could accommodate amounted to "shooting a BB gun at a tank," Shaw says.
Access to suitable land should be a major consideration for any feed mill looking at solar generation, Haarmann says. Any solar array large enough to power a feed mill will take up a substantial amount of land, so feed producers will have to determine if solar will pencil out in their unique situation — especially if installing solar means taking productive farm ground out of rotation. For feed mills that lack access to adequate land, contracting with independent solar farms to purchase electricity through arrangements, sometimes called virtual power purchase agreements, may be an alternative solution.
Fortunately, Josias says, the Griggsville mill is located near a field whose owner was willing to lease The Maschhoffs 11 acres to accommodate the solar array. In addition to the solar panels, he says, the site will be seeded with low-growing native grasses and wildflowers to reduce long-term maintenance costs and provide natural habitat.
With all the various partners involved — the land owner, the co-op that would continue to provide transmission services to the mill, and the government-run solar incentive programs — completing the planning and design for the array ultimately spanned 18 months.
This was somewhat longer than The Maschhoffs anticipated, but it isn't abnormal, Haarmann says. Solar installers face labor shortages and supply chain difficulties, and government incentive programs may have long waiting times due to high demand — as was the case with The Maschhoffs project.
A couple years of delay shouldn't impact the economic benefit of a solar installation and should be expected, Haarmann says.
"Walking through and doing a proper job, with all the modeling that's involved to make sure you're putting the right foot forward, it takes a lot of time," Shaw agrees. "You're building a generation plant. It's not a quick thing."
However, The Maschhoffs project encountered some unanticipated headwinds. Originally, Haarmann says, the design team had anticipated a more extensive project that would have paired the solar panels with a natural gas generator that could power the feed mill at night. However, the recent increase in natural gas prices meant the generator was no longer cost effective, and the second part of the project was ultimately scrapped.
Even so, Josias says the new solar array should by itself generate enough electricity to offset 56% of the feed mill's annual use, bringing the Griggsville mill's electrical costs in line with the other mills operated by The Maschhoffs.
The company anticipates savings in excess of $11.3 million over the next 25 years, after spending roughly US$1.3 million out of pocket, with government incentives, to build the solar farm.
Future directions
Based on their experience with the Griggsville mill, Josias says The Maschhoffs will definitely consider installing solar at their other feed mills. Between the cost savings and the green image associated with solar, Josias believes solar will give The Maschhoffs a competitive advantage.
And they aren't the only people looking to pair solar with feed production. Solential Energy aims to install solar at more feed mills in the years to come to help the feed and grain industries cope with rising energy costs.
"Over the last couple of years, prices have really started to inflate," Shaw says. "Solar is really going to take off now because even if you're tax exempt … the benefits are there, they're tangible, and the information is just getting out."
There's also some future potential to equip feed mills with on-site batteries that could store electricity generated by solar panels during the day and power the feed mill overnight, Shaw says. A battery could one day replace the generator plans The Maschhoffs ultimately scrapped, but the government incentives available at the time did not allow for the installation of storage.
The Inflation Reduction Act passed this year opens federal incentive programs to energy storage projects, and Shaw says he expects states that have not already extended incentives to energy storage to follow suit.
aarmann doesn't believe battery storage is ready for prime time, at least not at a feed mill. With today's technology, he says, even the largest battery installation could still only power a feed mill for a few hours. Even so, he believes we could see battery-powered feed mills in the future.
"There's going to be a battery technology that comes along that may solve that at some point," he says. "You used to not be able to drive an electric car more than 120 miles, and now they're getting them to 400 miles. If the same thing happens in battery storage, that's a step in the right direction."
But for now, the fact that a solar can't provide 24/7 free electricity for a feed mill shouldn't deter producers from considering it as an option, Haarmann says, particularly in light of the large number of government incentives available.
"It sounds too good to be true, and I think that might scare some people away because they're like, no way. You're telling me I need a US$5 million solar system, but it will only cost me $100,000, how will that happen," Haarmann says.
"But, it truly is real. Be careful, make sure you know who you are dealing with, but it's not too good to be true."