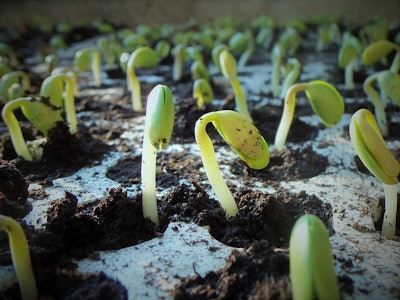 Headlines
Corn and wheat higher in the overnight as soybeans slip.
NOPA crush within expectations.
Brazil soybeans cheaper than U.S.
Weather Updates
Precipitation in Brazil brings relief to 2nd crop corn in south and western Parana. More rains are expected this weekend. Rains will be limited throughout Argentina over the next week bringing some relief to an over-saturated soybean crop during harvest. 1-5 day GFS forecast brings moisture to western Kansas and Oklahoma. 6-10 day GFS forecast bring significant precipitation into Northern Texas, Oklahoma and southern Kansas.
NOPA Crush Results
The NOPA Crush report showed that the amount of soybeans crushed in April met analyst estimates. April soybean crush was reported at 161.016 MB, compared to analyst estimates of 160.966 MB. Last year April soybean crush totaled to just 139.134 MB. April Soyoil stocks were reported at 2.092 billion pounds, up from 1.946 billion pounds at the end of March. Soyoil stocks were above the average analyst guess of 1.98 billion pounds and are at a five year high.
Brazil soybean prices dip below U.S.
The price of Brazilian soybeans for export has dropped below U.S. export prices as Chinese buying has cooled. Brazilian soybeans were quoted at $389.10 a MT compared to U.S. cargoes being offered at $405.50. With pork margins compressed, Chinese buyers have slowed purchases of soymeal in recent weeks. Some traders expect soybean exports to be slow for the next month as Chinese crush facilities have ample supplies of soymeal and there is indications that near-term demand for the feed ingredient is weaker than expected.
Informa Economics latest Forecast
Informa revised 2018 corn and soybean planted acreage estimates in their latest report. Informa estimates corn acreage planted at 89 million acres compared to the USDA estimate of 88 million acres. The group also estimates soybean planted acreage at 89.4 million compared to the current UDSA figure at 89 million acres. All wheat other than Durum was estimated at 12.4 million planted acres compared to USDA's 12.6 million acres.
Overnight Tenders
Taiwan Flour Millers' Association purchased 83,350 MT of milling wheat from the U.S in an international tender that closed on Wednesday.
The risk of trading futures, hedging, and speculating can be substantial. Grain Hedge is a Branch of Foremost Trading LLC (NFA ID: 0307930)