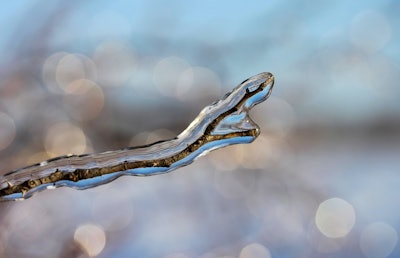 Snow and Sleet On the Way for the Southern Plains
The National Weather Service has issued a winter storm warning for S Oklahoma and parts of N Texas for this morning. Freezing rain, sleet, and snow are forecast from now until tomorrow. The NWS warns of an ice glaze forming up to 0.2 inches thick before up to 8 inches of snow are forecast to fall in the area with some regions seeing freezing rain or sleet. The winter storm warning lasts until 6 AM local time on Friday morning. Further to the east, some areas in central Texas, NW Arkansas, and the Oklahoma-Kansas border have been issued winter weather advisories as this system moves through the area.
Some Brazilian Growing Region Saw Rain, But Crops Will Need More to Overcome Deficit
The areas in southern Brazil where a majority of the country's soybean crop is grown had some slight rain over the past week but heavier and more widespread precipitation will be needed to significantly relieve crops. Mato Grosso, the largest soybean producing state in Brazil, saw scattered showers and very high temperatures over the past week. Mato Grosso has not seen substantial rain across the state in nearly 3 weeks. As drought stress worsens, it is causing soybeans in the field to advance in maturity ahead of schedule and is estimated that if there is no rain soon, yields may drop by as much as 0.8 bpa every day.
As Government Shutdown Drags On, USDA May Forego Important Crop Reports
On Friday, the USDA will decide if they will publish the upcoming Jan 11 World Agricultural Supply and Demand Estimates (WASDE) due to the government shutdown. Other reports with a possibility of delay are the quarterly grain stocks report, the final U.S. crop production report for 2018, and a winter wheat seedings report. The USDA has previously stated that they will not be publishing certain reports during the shutdown, most notably daily and weekly export sales announcements. As of today, the government shutdown has entered its 13th day and there is little hope to be had. Yesterday, President Trump met with members of Congress to come to an agreement but little progress was reportedly made.
The risk of trading futures, hedging, and speculating can be substantial. FBN BR LLC (NFA ID: 0508695)