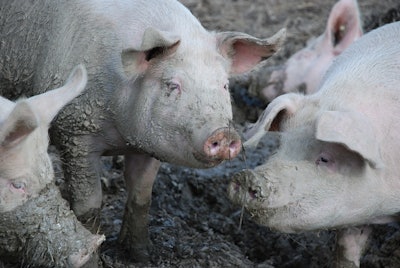 China Has Culled 916,000 Hogs Due to African Swine Fever
China has culled 916,000 pigs as of Jan. 14 due to outbreaks of African swine fever since the first case was reported in early August last year, the country's agriculture ministry said on Tuesday. China has reported about 100 outbreaks of the highly contagious disease in 24 provinces and regions since it was first confirmed in the northeast of the country. China, home to the world's largest hog herd, has reported more than 90 cases of the highly contagious disease since it was first detected in the northeast part of the country in August last year.
What does this mean for the U.S. farmer? While approximately 1 million head of hogs is a small number of animals for the Chinese, the impacts are broad as the Chinese have been importing more pork. Trade negotiations between the U.S. and China have included U.S. pork.
NOPA's December Crush Estimated at 170 MBU
U.S. soybean crushings in December were likely the largest on record for that month as soy plants continued their recent strong crushing pace, according to analysts polled ahead of a monthly National Oilseed Processors Association (NOPA) report. If realized, the processing volume would be the third-largest monthly crush on record and the most robust December crush ever, topping the 166.305 MBU crushed in December, 2017. It would also be +1.8% from November's crush of 166.959 million bushels. Soyoil supplies among NOPA members at the end of December were projected at 1.571 billion pounds, up from 1.484 billion pounds at the end of November and 1.518 billion pounds for the same month in 2017. If realized, the +5.9% increase would represent the first soybean oil stocks rise in eight months.
What does this mean for the U.S. farmer? The soy crush is very much a localized business and it's no secret that the commercial processor has enjoyed robust margins for the marketing year. Solid demand for meal and oil may help local prices but are not to be relied upon.
Global Agricultural Weather
Continued moderate precipitation will benefit winter crops across Ukraine and surrounding regions of Russia through the next 10 days. As temperatures decline, winter-kill is not a large threat as most of the region has protective snow-pack. Unfavorable warmth will persist across Brazil's core crop regions through at least the next 10 days. A frigid arctic air mass is expected to overtake much of the Central and Midwest U.S. in the 6-10 day time frame, which could raise concerns of winter-kill damage in some winter wheat regions.
The risk of trading futures, hedging, and speculating can be substantial. FBN BR LLC (NFA ID: 0508695)