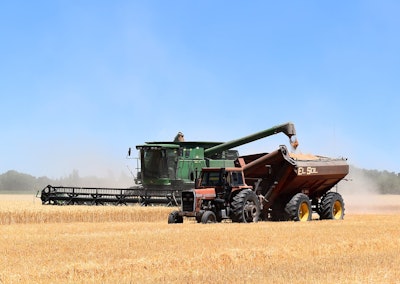 USDA Crop Progress Reports: Dryness in HRW, Wet in South
HRW- Condition scores in Texas showed a decline in wheat from the previous week 30% VP/P vs. 24% VP/P as dryness persists. Oklahoma's HRW crop saw a moderate improvement: 9% VP/P vs. 11% VP/P the previous week.
SRW- States reporting condition score for SRW: Arkansas, Louisiana and Mississippi showed a slight weakening of condition score as wetness persists. At 31% VP/P the Arkansas crop was the lowest rated of the three.
Field Conditions- As spring continues in the south, reports of wet fields and rain have slowed the preparation and ground work in most of the Delta.
Texas Corn and Sorghum- Corn planting in North Texas was reported as slow and at 11% vs. the 5 year average of 16% is slightly behind. Sorghum planted at 11% is on par with the 5 year average. Corn is beginning to emerge in the Coastal Bend.
What it means for U.S. Farmers- The HRW conditions in Texas are not a surprise but with the 5-day forecast showing more than 1-inch of rain in the region some relief appears to be on the horizon. The same applies for HRW in Oklahoma and up through western/central Kansas. Dryness does not appear to be in the short term forecast for the Delta which will continue to slow field work and ground preparation. Meanwhile the futures markets are ignoring these early state reports for corn as they represent a small portion of the total production.
Trump Budget Proposes Cut To Farmer Subsidies
President Trump's 2020 budget on Monday proposed a 15% reduction for the U.S. Department of Agriculture (USDA), calling its subsidies to farmers "overly generous".
The President's budget requested $20.8 billion for the USDA, a cut of $3.6 billion, or 15% from the 2019 estimate. The initial proposal reduces premium subsidies for crop insurance by limiting the number of producers who would be eligible and tightening commodity payment limits.
The budget proposes to reduce the average premium subsidy for crop insurance to 48% from 62% and limits subsidies to producers that posted an adjusted gross income of $500,000 or less.
The proposal also requests tightening commodity payment limits, including eliminating an "unnecessary and separate" payment limit for peanut producers and limiting eligibility for commodity subsidies to one manager per farm.
The budget also proposes fiscal cuts to the food stamp program known as Supplemental Nutrition Assistance Program (SNAP).
What it means for U.S. Farmers: Kind of a surprise to the American farmer but the proposal demands further interpretation as most of the cuts appear to be directed at the always hotly contested food stamp program. The cuts to the insurance programs and making adjustments to limit subsidies to producers with smaller incomes is interesting and demands further analysis. Please contact your FBN representative with any questions about how the budget could impact crop insurance programs.

The risk of trading futures, hedging, and speculating can be substantial. FBN BR LLC (NFA ID: 0508695)