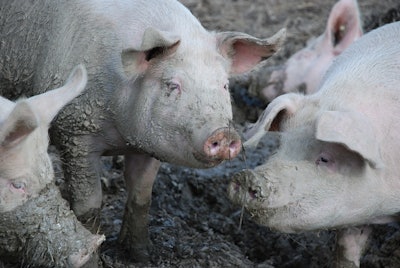 African Swine Fever In China Reduces Pork Supplies
The global pork market may still be in for a supply shock as African swine fever could reduce China's pig production by 134 million pigs on the year, roughly the size of the entire U.S. crop.
The USDA estimates, China's 2019 pig crop will fall to its lowest levels in 17 years, and hog inventory will decline by 18% YoY to the lowest levels in 30 years.
China produces and consumes nearly half of the world's pork. Last year, the Asian country produced 54MMT of pork and consumed just over 55 million MMT about 4.5 and 5.5 times more than the United States.
A 10% decline in China's pork production, representing 5.5MMT is significant considering that the volume is more than half of annual global pork trade.
China's pork imports are set to rise 41% in 2019 to 2.2MMT and USDA predicts that Europe, Brazil, and Canada will assume most of this volume.
U.S. pork is less competitive as China imposed 62% tariff on U.S. pork.
CME listed lean hog futures have surged this year and were the third best performing commodity future during Q1.
What It Means for the U.S. Farmer: The USDA's estimates are solid and present a more numerical support for what the world already knows. The contraction of China's hog herd can be a positive for the U.S. farmer in many ways: supportive hog prices and supportive domestic feed inputs.
U.S./China Make Progress In Trade Negotiations
The United States and China have largely agreed on a mechanism to police any trade agreement they reach, including establishing new "enforcement offices."
No word on when or if U.S. tariffs on $250 billion worth of Chinese goods would be removed.
The two sides are working on broad agreements covering six areas: forced technology transfer and cyber theft, intellectual property rights, services, currency, agriculture and non-tariff barriers to trade.
President Donald Trump said that a deal could be ready around the end of April.
What It Means for the U.S. Farmer: Establishing a trade enforcement mechanism was a key and important point for the U.S. negotiators and should represent a big step forward. The two countries are still negotiating on other terms. Still no date for a summit between President Trump and President Xi.
The risk of trading futures, hedging, and speculating can be substantial. FBN BR LLC (NFA ID: 0508695)