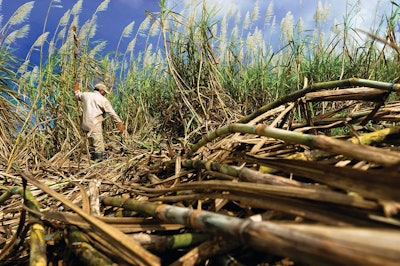 Export Sales Announcement
Export sales of 107,000 metric tons of corn for delivery to Colombia during the 2018/2019 marketing year.
Export sales of 369,000 metric tons of soybeans for delivery to unknown destinations. Of the total 309,000 metric tons is for delivery during the 2018/2019 marketing year and 60,000 metric tons is for delivery during the 2019/2020 marketing year.
Global Sugar Supply Seen Contracting @ 1.7 MMT Deficit
The global sugar supply balance is seen swinging to a deficit of 1.7 MT in the 2019/20 season (Oct-Sept) from a surplus of 0.4 MT in 2018/19, as global production declines.
European analyst F.O. Licht forecast that global sugar production in 2019/20 would fall by 1.2 MT to 185.1 MT.
Sugar production in Brazil's center-south regions is forecast to rise only modestly after collapsing in 2018/19 when mills cut production by almost 10 MT.
Thailand's sugar production to fall to 12.7 MT from 14.6 MT. It sees India's output at 29.4 MT in 2019/20 versus a record 33 MT.
What It Means for the U.S. Farmer: We believe that the declining Brazilian sugar production can be supportive to U.S. ethanol exports. According to U.S. Department of Energy monthly ethanol export data, Brazil has been the largest importer of U.S. ethanol since October 2018. We think that a declining center-south sugar production can be a positive for U.S. ethanol if the Brazilian export program continues to exhibit strength.
China is Prepared to Implement Counter Tariffs on U.S.
China is "fully prepared" to defend its economic and domestic interests in its trade war with the United States, but hopes the United States can resolve problems through dialogue instead of unilateral measure.
Since July last year, China has cumulatively imposed counter-tariffs of up to 25% on about $110 billion of U.S. products. It last levied tariffs, of 5% to 10%, on $60 billion of U.S. goods that includes U.S. soybeans.
Vice Premier Liu He is scheduled to hold talks in Washington on Thursday and Friday which are aimed at salvaging a deal that appeared to be unraveling after U.S. officials accused China of backtracking on earlier commitments and President Trump threatened to hike tariffs on Chinese goods on Friday.
The U.S. Trade Representative's office said tariffs on $200 billion of Chinese goods would rise to 25% from 10% at 12:01 a.m.
What It Means for the U.S. Farmer: At FBN we believe that the latest round of Chinese tariffs may not impact the U.S. farmer as the Chinese have already increased tariffs on U.S. soybeans and pork. While the Chinese have not made a tariff list public, we think that U.S. agricultural products should be immune.
The risk of trading futures, hedging, and speculating can be substantial. FBN BR LLC (NFA ID: 0508695)