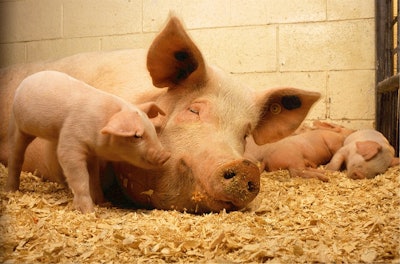 China's Sow Herd Declines By 22% YoY In April
China's sow herd fell by 22.3% in April from a year earlier, marking another record drop.
The decline in April follows a 21% YoY decline in March.
Many farmers impacted by early measures to contain the spread of the disease sold off their pigs and held back from restocking on infection worries.
The size of the decline in breeding herd is similar to a drop in output, although many believe the slump in output will be much higher than 20%.
What It Means for the U.S. Farmer: At FBN we believe that the decline of the Chinese hog herd is bearish future feed grain demand. While the domestic/commercial broiler flock will expand, we maintain that a material decline in the Chinese hog herd is not positive for soybean imports.
Australia Imports Wheat Due To Eastern Drought
Australia will import its first shipment of wheat in more than a decade as a drought across the country's east coast wilts supply in the world's fourth largest exporter of the staple grain.
Australia last imported wheat in 2007 when an El Nino weather event led to a severe drought and cut production to around half of the typical annual output.
Although the last El Nino was in 2016, Australia has suffered a prolonged drought along its east coast in recent years, which has led to two straight years of lower output.
Australia's traditional customers have already turned to the Black Sea region to secure supplies.
What It Means for the U.S. Farmer: At the moment not too much. In Australia the continued drought in the eastern producing portion of the country remains a problem. At FBN we believe that Australia's influence in the global wheat export markets continues to dim as production and currency rates in the Black Sea make the region the provider of "first choice."
The risk of trading futures, hedging, and speculating can be substantial. FBN BR LLC (NFA ID: 0508695)