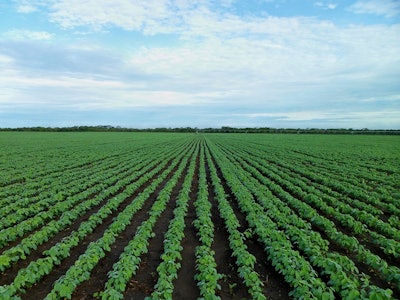 Brazil Would Welcome Rain; Soybean Plantings Off to Slow Start
Brazil is in the midst of planting soybeans and summer corn.
Soybean planting pace is running behind average.
Parana (second largest-producing state) was 10 percent planted earlier this week, which is the slowest start in seven years and is well behind last year at 29 percent.
Mato Grasso (top producing state) had around two percent planted last week, which was also below average.
Plantings for Parana and Mato Grasso typically are about half complete in late October.
Rainfall during June and August was the lightest in several years while September precipitation totals were below normal for both states as well.
FBN's Take On What It Means: The slow start to plantings and drier weather is not extremely concerning at this juncture. With plantings in their early stages, there still is time for the major exporter to recover. However, the country is in need of rain. Weather across South America will be a key element in the coming months.
Argentina in Early Wheat Harvest and Corn Planting
Parts of Argentina have wheat that is being harvested.
Harvest is in its early stages with the bulk expected in December.
The Buenos Aires Grains Exchange looks to cut a record 21 million tonnes.
Corn plantings are over 20 percent complete.
Producers are expected to plant 6.4 million hectares (about 16 million acres).
Planting conditions have improved.
The exchange looks for a corn crop around 50 million tonnes.
FBN's Take On What It Means: Argentina's wheat harvest will directly impact U.S. exports. Argentina typically has large monthly export totals starting in December with values drifting off around April. If Argentina cuts a wheat crop around 20 million tonnes, this could keep U.S. exports at 975 million bushels at best.
Argentina's corn crop is small relative to the U.S., but for comparison, the U.S. exports about 15 percent of its crop whereas Argentine exports nearly 70 percent. The risk for Argentina is mostly political uncertainty, particularly if the government alters the export tax program. General elections are scheduled for October 27.
The risk of trading futures, hedging, and speculating can be substantial. FBN BR LLC (NFA ID: 0508695)