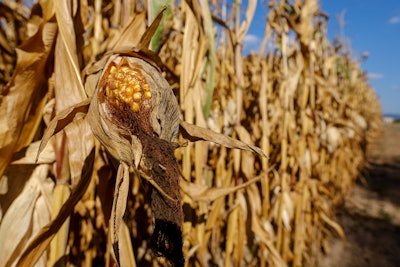 September 1 Grain Stocks Supportive for Corn, Soybeans
Old-crop stocks for corn were estimated at 2,114 million bushels, which was significantly smaller than average market expectations at 2,428 million and was less than the low-end of the range at 2,298 million.
Stocks are down marginally compared with last year at 2,140 million.
Soybean stocks were estimated at 913 million bushels, which was smaller than expectations at 982 million bushels and below the low end of the range at 940 million.
All wheat September 1 stocks totaled 2,385 million bushels, which was near last year's total but larger than expectations.
FBN's Take On What It Means: Both the corn and soybean stocks totals were supportive to the markets on Monday. While USDA's totals were below expectations, the soybean stocks outlook still is burdensome relative to history. The stocks totals imply that use is larger than what USDA issued in September or perhaps that production is lighter. This may be tied to some bushels being lost during the heavy rains and flooding realized earlier this calendar year.
Small Grains Summary Not Surprising, Numbers Could be Revised
USDA estimated all wheat production at 1,962 million bushels.
This was near market expectations at 1,968 million and smaller than USDA's August forecast at 1,980 million.
Production is up 77 million bushels, year over year.
USDA will recontact survey respondents in ID, MN, MT, ND, SD, WA and revisions for wheat, if any, will be included in the November 9 Crop Production report.
USDA revised 2018/19 production and stocks, but changes were minor.
Barley production was estimated at 171 million bushels, up from 154 million last year.
Oat production was estimated at 54 million bushels, near last year's 56 million.
FBN's Take On What It Means: USDA's wheat numbers confirmed that U.S. wheat supplies remain ample. Although spring wheat faced difficulties during planting and later at harvest, unless USDA revises the production total sharply lower, HRS stocks are poised to be at the largest volume in years. International interest in U.S. wheat has overall been disappointing but is forecast to increase into 2020. However, given another year of a billion-bushel carryout expectation, wheat futures are overall forecast to remain under pressure.

The risk of trading futures, hedging, and speculating can be substantial. FBN BR LLC (NFA ID: 0508695)