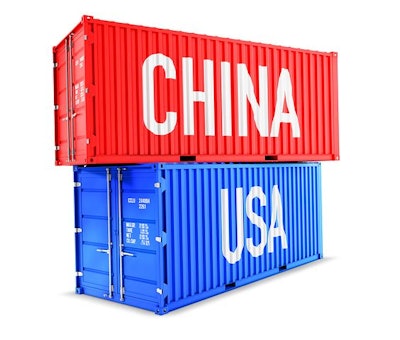 U.S. and China "Getting Close" to Phase 1 Trade Deal
White House economic adviser Larry Kudlow called the recent progress of the trade talks between the US and China as "very constructive."
One of the major sticking points that continues to slow the progress is the committed volumes of U.S. agriculture exports.
The U.S. and China have been locked in successive waves of back and forth tariffs since 2018.
The U.S. is scheduled to implement a new round of tariffs on Chinese consumer imports in mid-December.
According to Reuters, the possibility exists that Trump and Chinese President Xi would not need to meet in person to sign a Phase 1 trade deal.
FBN's Take On What It Means: As the negotiating between the two countries drags on, subtle progress away from the negotiating has been made. On Thursday, Nov. 14, China resumed imports of U.S. poultry "effective immediately." The U.S. has not exported poultry to China since a 2015 ban following an outbreak of Avian flu in the US. At FBN we continue to monitor the political developments as they pertain to the trade negotiations and how they can impact the U.S. farmer.
French Corn Harvest & Winter Wheat Plantings Delayed By Rain
According to France's ArgiMer the country's corn harvest and winter grains planting pace is behind the historical averages as wet weather is slowing field work.
As of Nov. 11th, 85% of the French corn crop had been harvested. This is up from 85% the week earlier but below the 5 year average of 99%.
Sowing of the 19/20 soft wheat crop was 72% complete, up from 67% the previous week but down from 92% a year earlier.
Nationwide rainfall in France during October was 40% above average.
France is the largest producer of corn and wheat in the EU.
FBN's Take On What It Means: Similar to the US, it seems that the French corn harvest is suffering from excessive rain. France is not a major exporter of corn, but if corn quality becomes an issue and more wheat enters the French livestock ration this could be positive for the US corn export program as France could reduce their feed wheat exports.
The risk of trading futures, hedging, and speculating can be substantial. FBN BR LLC (NFA ID: 0508695)