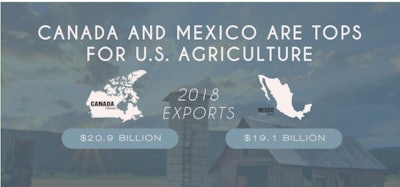 For more than a year, farmers have sent letters and made phone calls to Congress urging passage of the U.S.-Mexico-Canada Agreement -- heck some have even sung about it -- but introduction of the implementing legislation and ratification of USMCA has thus far been elusive.
After drawn-out negotiations between the U.S. and Mexico, we may finally be on the precipice of a vote on the agreement, making it the perfect time to remember the special role that Mexico and Canada play as our trading partners and the details of the agreement.
Current State of Play
In 2018, the U.S. exported nearly $40 billion in a wide range of agricultural products to Canada and Mexico. Those exports include $7.7 billion in bulk commodities, $7.5 billion in intermediate products and $24.8 billion in consumer-oriented products.
While these numbers are impressive on their own, their relative share of total U.S. agricultural exports is even more remarkable.
Exports to our USMCA partners represented 16.5% of total bulk commodity exports, 27.5% of total intermediate product exports and 37.5% of total consumer-oriented product exports.
In fact, in 2018, Mexico was the top destination globally for both bulk commodities and intermediate goods and the second-largest destination for consumer-oriented goods. Mexico lost the top consumer-oriented product destination title to … Canada.
USMCA
USMCA promises to further strengthen the three countries' already notable trade ties. According to an assessment by the U.S. International Trade Commission, USMCA will increase U.S. exports and imports of agricultural products by 1.1% and 1.8%, respectively. A 1.1% increase in exports will be equivalent to a $2.2 billion boost in agricultural exports once all of the USMCA provisions are fully implemented. USMCA will lead to small increases in U.S. exports to Canada of dairy products, poultry meat, eggs and egg-containing products, as well as wheat and alcoholic beverages. At the same time, it will lead to a small increase in U.S. imports of sugar and sugar-containing products and dairy products from Canada. This bump in trade is expected to lift U.S. agricultural production by 0.18%, while increasing real wages by 0.23% and employment by 0.12%, resulting in 1,700 new jobs.
Beyond increases in market access from lower tariffs and higher quotas, USMCA strives to improve the rules that govern agricultural trade between the U.S., Canada and Mexico. USMCA is the first agreement to specifically address agricultural biotechnology – including new technologies such as gene editing – to support innovation and reduce trade-distorting policies. The rules that govern the health and safety measures of trade in plant and animal products, known as sanitary and phytosanitary measures, are strengthened, while improving the flow of trade. Ever important for the growing trade in consumer-oriented goods, the agreement institutes a more rigorous process for establishing geographical indications (GIs) and lays out additional factors to be considered in determining whether a term is a common name.
While improvements in rules don't sound very exciting, they are incredibly important to efficient and prosperous trade. Not having updated rules is like knowing all the rules to Candy Land, only to realize too late that you're actually playing Monopoly.
Summary
Summaries of the benefits to U.S. agriculture can be found on both the U.S. Trade Representative and USDA websites. The USITC report, which goes into great detail about the agreement, is also available online.
Reading any or all of the publicly available information on the USMCA will quickly lead you to understand why farmers are singing that "trade would give us a hand" and that we need to "Pass the U-S-M-C-A."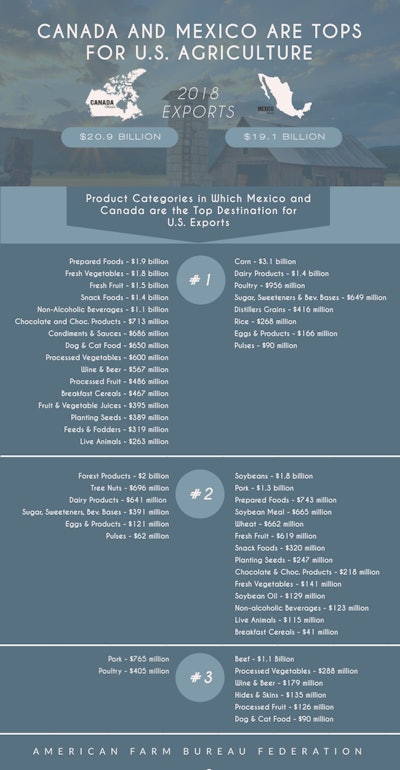 Contact:
Veronica Nigh, Economist
Phone: (202) 406-3622
Email: [email protected]