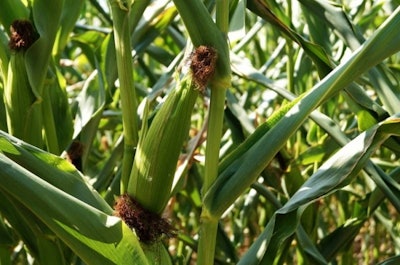 Crop Ratings Lower Than Expected
Corn crop conditions fell to 64% good to excellent from 69% last week, which was well below the 67% expected.
88% of the corn crop is doughing versus 82% average and 44% is denting versus 39% average.
The soybean crop rating was also below expectations at 69% good to excellent, down 3% on the week.
92% of beans are setting pods versus 87% average, while the percentage dropping leaves was on par with average at 4%.
Spring wheat conditions improved slightly to 71% good to excellent from 70% last week.
Spring wheat harvest was seen as 49% complete compared with 62% average.
Cotton crop conditions were up 1% to 46% good to excellent.
FBN's Take On What It Means: Rains are still forecast to improve starting this weekend as moisture from two tropical storms finds its way into the Midwest. However, it's too early to know if late precipitation will help bean yields in all areas due to much earlier planting. Impacts from the dry August weather won't be seen until beans start to get harvested. Corn good to excellent ratings have fallen sharply and are down 8% over the last two weeks, suggesting yields will be lower than the last USDA projection of 181.8. Please contact your FMA as the potentially lower production is providing an opportunity to catch up on sales.
US/China Reaffirm Trade Deal
US Trade Representative Lighthizer and Treasury Secretary Mnuchin spoke with Chinese Vice Premier Liu He overnight.
The parties discussed the significant increases in purchases of US products by China as well as future actions needed to implement the agreement.
Both sides agreed to create conditions to push the deal forward, according to China's Ministry of Commerce.
China would need to buy about $130 billion in the second half of this year to comply with the original terms of the agreement.
China has made some progress as it modified regulations to allow imports of a variety of American farm and food products.
FBN's Take On What It Means : While the two sides reiterated their commitment to the Phase 1 trade deal, there were no specifics offered about China meeting its original commitments. China has increased US agricultural purchases recently as the US became more competitive, but the government would likely need to go on a buying binge and add to reserves to come close the $17 billion target. Increased purchases by China are accounted for in current demand forecasts and would need to ramp up significantly to improve the outlook.
FBN Market Advisory services are offered by FBN BR LLC, dba FBN Brokerage, FBN BR and FBN Market Advisory (NFA ID: 0508695)
The risk of trading futures and options can be substantial and may not be suitable for all investors. Past performance is not necessarily indicative of future results.
This is not an offer or solicitation in any jurisdiction where we are not authorized to do business or where such offer or solicitation would be contrary to the local laws and regulations of that jurisdiction, including, but not limited to, persons residing in Australia and Canada.