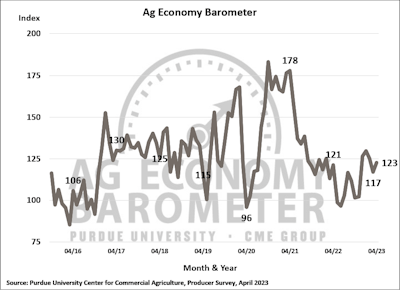 Courtesy of Purdue University
Farmer sentiment improved modestly in April as the Purdue University-CME Group Ag Economy Barometer reversed a two-month decline up 6 points to a reading of 123.
More producers expect prime interest rates to either hold steady or possibly decline during the next 12 months than felt that way earlier in the year.
Producers' perspective on farmland values shifted somewhat in April with fewer producers expecting values to decline in the upcoming year and more producers looking for values to rise than a month earlier.
Farm Bill discussions are heating up and this month's survey included a couple of questions to learn more about producers' perspectives on Farm Bill legislation. Opinions on the likelihood of a new Farm Bill's passage before the end of the year are divided.
Four out of 10 (40%) of producers think that passage of a new Farm Bill this year is either very likely (12%) or at least somewhat likely (28%).
But on the other side of the coin, 29% of producers think that the bill's passage is either very unlikely (13%) or somewhat unlikely (16%).
The survey queried corn and soybean producers regarding what they consider to be the most important aspect of a new Farm Bill to them.
40% of respondents chose crop insurance as the most important
31% commodity programs
13% conservation titles
8% Research and extension and renewable energy funding titles
Leasing farmland for solar energy production continues to be a hot topic in some parts of the U.S. In this month's survey, 15% of respondents said that, in the last 6 months, they had actively engaged in discussions with companies about leasing farmland for solar energy production.