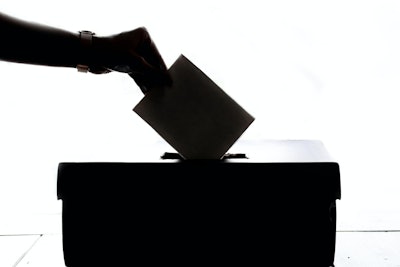 Last Tuesday's midterm election saw a record turnout for a non-presidential election year. It also set a record for political spending, surpassing $16 Billion — more than total spending in the last Presidential election.
At the American Feed Industry Association's (AFIA) Equipment Manufacturers Conference (EMC) in St. Petersburg, Florida, Constance Cullman, AFIA president & CEO, broke down what the election's results so far mean for the feed industry and agriculture broadly.
Senate Ag Committee mostly unchanged
The Red wave expected ahead of the election did not materialize, so few changes are expected for the U.S. Senate Committee on Agriculture, Nutrition & Forestry, the committee responsible for drafting the Farm Bill.
The Committee's leadership is not likely to change with Minority Leader John Boozman and Sens. John Thune, John Hoeven, Charles Grassley and Michael Bennett all winning re-elections.
Majority Leader Debbie Stabbenow is also likely stay on the Ag Committee, while Sen. Boozman will continue to enforce the margin.
"That margin is certainly going to affect what can get done," Cullman said. "Stabbenow needs 60 votes, in most cases, to pass things like a Farm Bill and other pieces of legislation, but [the results of this election] are not going to significantly change the types of legislation that can get passed."
While Vermont's Sen. Peter Leahy's retirement will leave a vacancy on the Senate Ag Committee, it's likely to be sought after by another Democrat, his newly elected successor Rep. Peter Welch.
House Ag Committee may see major shifts
The Democratic-led House Agriculture Committee is more likely to see major shifts than the Senate Ag Committee.
"This is the fifth election in a row where the majority is split," Cullman said. "Talk about a seesaw! Looking at some of the seats that are currently held by Jahana Hayes out of Connecticut, Tom O'Halleran out of Arizona and Kim Schrier out of Washington — all three of those are Democrats, so that could change the complexion of the House Ag Committee."
Republicans heavily targeted many seats held by House Ag Committee members, including Democratic Reps. Al Lawson, Sean Patrick Maloney, and Cindy Axne, who all lost their seats. Republican minority member Rep. Mayra Flores also lost her seat.
The House Ag Committee's current Chairman David Scott and the current Ranking Member GT Thompson both won re-election challenges, as well as Democratic Reps. Sanford Bishop, Abigail Spanberger, Angie Craig, Marcy Kaptur and Sharice Davids.
Implications for feed industry

With the thin margin held by Republicans, it's unlikely the next Farm Bill will include any revolutionary changes. While Republicans' attempts to cut nutrition funding may pass in the House, it will not make it through a conference committee.
But Cullman said agriculture's aspirations are not dead in the Senate with the Partnerships for Climate-Smart Commodities. Sen. Abigail Spanberger, a main proponent of the initiative, will continue to push for Climate-Smart Commodities funding.
Many of today's most pressing agricultural issues, like inflation, supply chain, and labor, are not overseen by Ag Committees. Cullman said the implementation of the Inflation Reduction Act holds great potential for advancing agriculture and feed industry initiatives.
"The Inflation Reduction Act includes a lot of funding for food and agriculture, environmental sustainability and conservation programs," Cullman said. "Will that mean less funding in the Farm Bill for Title II Conservation? It will be interesting to find out."
In the meantime, Cullman said AFIA is working to identify opportunities through the Inflation Reduction Act to implement USDA programs that are more feed management friendly regarding cost share dollars.