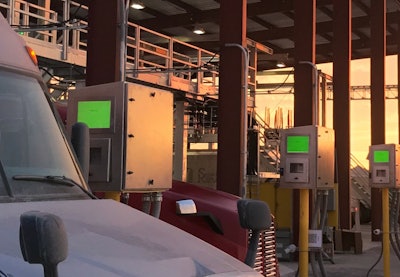 With the many advantages to upgrading load-out systems, there are also challenges that should be addressed prior to installation.
Technology has helped increase the efficiency, accuracy and safety of load-outs by allowing the drivers to check in, weigh in, get lane verification, and weigh out through an automated kiosk ticketing system. This eliminates manual transaction errors, is user-friendly, and is safer, allowing drivers to get accurate quick results with less labor.
Kiosks are installed at drive-up truck height which allows the drivers to stay in their trucks. It can reduce liability, extend loading hours, improve traffic flow, and increase daily transactions and profits. It minimizes physical interactions between the scale house personnel and drivers to maintain social distancing as well.
Automated load-out solutions provide operators with clear, concise instructions at kiosks, grain terminals and feed mills worldwide. It is far more reliable than an app on a phone that depends on battery levels or unreliable internet service in remote areas.
At the heart of many automated load-out and ticketing systems is a touchscreen monitor. This enables the trucker to enter and receive information, tickets and reports quickly, easily and without station personnel.
In order for optimal unattended operation, the interactive touchscreen monitor must operate 24/7, and function properly in a wide variety of adverse conditions. There are several very important factors to consider when selecting, building or upgrading a load-out or ticketing system.
The Top 10 challenges for displays used in load-out systems:
Damage due to dirt, dust, rain, sleet, snow or UV from the sun
Screen is difficult or impossible to see in sunlight
Extreme temperature operation
24/7/365 operation
Shock and vibration
Reliable operator interface
Compatibility / interconnect-ability
Specific power requirements
Difficult to use
Custom needs
TRU-Vu Monitors understands these potential challenges, and has introduced a new industrial-grade outdoor touchscreen monitor which resolves all of these issues. The SRMHETRWP-15C is a 15-inch sunlight readable touchscreen monitor with 1,500 nits of brightness. It features a waterproof panel-mount stainless-steel enclosure.
This model addresses all of the Top 10 challenges head-on:
Water-proof enclosure
Weather is obviously a huge concern at every location. Rain, sleet, snow, and ice would cause catastrophic damage to standard consumer-grade touchscreens.
The industrial-grade SRMHETRWP-15C features a stainless steel panel-mount enclosure, rated NEMA 4X. It offers protection from dust, rain, splashing and even hose-downs. The unit flush-mounts into your wall, door or kiosk to ensure easy installation and years of reliable performance. The screen features a UV-protective coating to eliminate damage from direct, bright sunlight.
Sunlight readable screen
Drivers must be able to see and read content on the screen at any time of day. Unfortunately, standard touchscreens are not bright enough to operate in direct, bright sunlight. Even sun visors and shields do not provide a reliable solution. Sunlight Readable monitors are able to display clear, sharp images even in indirect or direct sunlight without loss in image quality thanks to their higher brightness. Sunlight Readable monitors features screens with brightness of over 1,000 nits, compared to 200-300 nits for standard video monitors. Therefore, the result is an amazingly bright screen, even in direct, bright sunlight on the face of the screen.
3. Extreme operating temperatures
Extreme temperatures are a major concern. The displays must perform in Canadian winters and Las Vegas in the summer. The SRMHETRWP-15C is designed to operate outdoors in nearly any environmental conditions. They perform in frigid conditions or blazing heat, and will operate in temperatures from -22°F up to 185°F.
4. 24/7 unattended operation with industrial-grade reliability
One of the many advantages of an automated load-out system is round-the-clock 24/7/365 unattended operation. The touchscreens must continue to function reliably, 24 hours a day, for years to come. All of our industrial-grade monitors and designed and built to do just that.
5. Maximum shock and vibration resistance
Another consideration is shock and vibration. The monitors will experience consistent vibration, as well as possible accidental impact. Consumer-grade monitors will not withstand harsh treatment. However, TRU-Vu monitors undergo a unique treatment to maximize shock and vibration resistance.
The TRU-TUFF process includes RTV silicone on all critical components and connections; all wires are dressed, tie-wrapped and secured; and ThreadLock is applied to all screws. This ensures ongoing reliable performance.
6. Dependable touchscreen interface
There are five major types of touchscreen technology available: 5-wire resistive, surface capacitive, projected capacitive, surface acoustic wave, and infrared. Which should you choose? The 5-wire resistive touch will offer the greatest combination of benefits for use in automated load-out systems:


Can be activated with virtually any object (finger, stylus, gloved hand, pen)
Has tactile-response feel
Low power consumption
Resistant to surface contaminants and liquids (dust, oil, grease, moisture)
Easy to use


7. Seamless integration
With both analog and digital video inputs, this model will easily connect to and work with nearly any new or existing systems. (additional inputs are also available). Unique panel-mount design is far easier to install than competitive models.
8. 12-24VDC, or 100-240VAC
Many terminals, stations and systems prefer the safety of DC power. This model operates on both 12 or 24VDC. An optional AC adapter enables it to run on 100-240VAC
TRU-Vu Monitors provides industrial-grade LCD monitors and touchscreen for a wide range of industries and demanding applications.