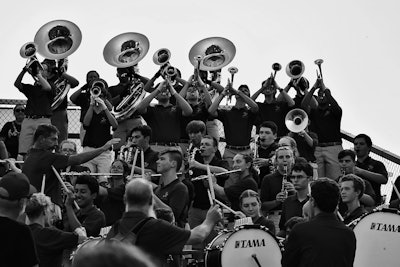 Did you realize everything you need to know about employee feedback could probably be learned from your high school orchestra or band conductor? Let me explain.

I started playing piano back when I was in 5th grade. I took to it, and ended up finding some great little high school jobs along the way (playing piano for a local church on Sundays? Sign me up!). When I was a junior in high school, I started playing the harp (a long story for another time) and ended up going to college as a music major. How did I end up in HR? That's another story for another time.
As you can see, I ended up not pursuing music as a full-time career, so I leaned on my economics major, eventually finding my way to where I am today — owning an HR consulting business that works with agribusinesses across the US.
Last year, after not having played in any sort of orchestra or ensemble in more than 19 years, I made it a goal to get into playable shape again — practicing a little bit in the evenings, working through the frustration of not being 22 anymore (though there are plenty of advantages, too), and that things were tougher to do than they had been when I was practicing constantly. Then there's simply the logistical challenge of moving that instrument — whew! Let's just say moving it in my 40s is not as easy as it was in my 20s.
I started playing with a local community college orchestra last fall and am in it again this spring. Monday nights are spent with other community members who haven't played in years, along with plenty of students, trying to make amazing sounds come out of our mishmash of a group.
Unexpected leadership lesson: Feedback in the moment
At rehearsal last week, our first piece did not have a harp part, so I got the opportunity to sit out, watch, and observe the rehearsal from a new vantage point. Our conductor jumped straight to the spots that were the toughest for our orchestra, and I watched how she led all the members through it.
Before they began to play, she provided a measure to give everyone the tempo she'd be conducting in, so they could enter and start on the right foot. If it didn't start together, or if the sound was off, she'd stop the group. At times, she had the winds stop playing so the strings could get their parts better aligned; at other times, the strings were stopped so the winds could adjust their dynamics. There was nothing mean or malicious about it: It was simply stopped, pointed out, and adjusted.
When individual sections were finished and she felt they were ready to go, she pulled the whole group back together to play and listen to the difference it made.
Near the end of that piece, the orchestra was playing really well, but she stopped them before the end. It seemed strange to me to stop at that point. But what she said next was critical:
"Are you hearing that?! THAT is the most balanced you've played all year! THIS is what we want to hear!"
Think about it. When was the last time you received real, in-the-moment feedback like that?
The reflection on music, particularly orchestra and band directors, stands out to me because in certain disciplines, it's commonplace to stop or pause, try again, build it back up, then keep going. You've probably encountered it in other areas, like sports — taking a skill down to the basics and then practicing and practicing and practicing.
Yet, when it comes to our daily work lives, chances are high that we aren't given that same kind of in-the-moment feedback. When was the last time your manager stopped you and said "THAT'S IT! That is EXACTLY what I want you to do! You did it!"?
Why or when we stopped getting this kind of feedback is not the topic for this week. The goal is to have you think about your own role as a leader, and to reflect on what kind of conductor you are for your team.
Look and listen for behaviors you want repeated
As you know, we're always looking for a tool you can try out today with your own business. Part of this involves looking for what your team members are doing well and pointing it out to them when they do. If it seems obvious, that's fine. Just because it seems obvious does not mean that it's been made clear to your team members that it's what you want to see them continue and repeat! I'd rather be obvious than leave my team wondering how they're doing. Wouldn't you?
1. Look for what they are doing well
Did you just overhear one of your team members have a great customer conversation? Did another team member follow your safety checklist before they unloaded a truck? Is another team member coming in with a smile on their face every day, even though you're running short-staffed?
2. Say something
Not sure what to say? That's okay – we've got you. Try this:
"I noticed (or heard, saw)…" (the behavior that you saw)
"It makes me feel like..." (what assumption(s) do you make from this)
"How do you see it?" or "What are your thoughts?"
3. Listen
This might be the hardest part. Just stop and listen. Your only goal here is to hear from them. Do they know how much you appreciate what they're doing? Are they minimizing what they did? What a great opportunity for you to recognize them!
Small recognitions = big impact
Will it feel awkward at first? Probably. You might be catching them off-guard in asking about this, so it's okay if it feels awkward. I'd rather you practice this when you have some recognition to share — because you can't mess it up! It might sound like this:
"I noticed that every day when you come in, you have a huge smile on your face, and you greet everyone you see. It makes me feel like you're having fun and enjoying it here. How do you see it?"
Coming into work smiling may not seem like much, but those behaviors you recognize are show your team members what you want to see them continue to do, and even sets the expectation for what you want to see from others. How much of an impact does that person have on the morale of the team on duty? Often, we pass these great opportunities to recognize — the first step is to notice.