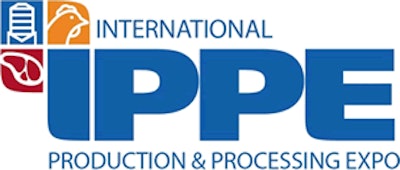 U.S. Poultry & Egg Association (USPOULTRY) recognized five companies that have been exhibiting for 50 or more years at the International Poultry Expo (IPE), part of the 2019 International Production & Processing Expo (IPPE).
The Dupps Company, VAL-CO and Zoetis were recognized for 65 years of exhibiting at IPE. Poultry Times was recognized for 60 years of exhibiting, and Hy-Line International was recognized for 55 years of exhibiting.
"Your support of the International Poultry Expo has allowed the poultry industry to grow and advance as we continue to invest show revenues back into the industry. We sincerely appreciate and thank you for your continued support," commented John Prestage, senior vice president, Prestage Farms, Clinton, N.C., and newly elected USPOULTRY chairman.