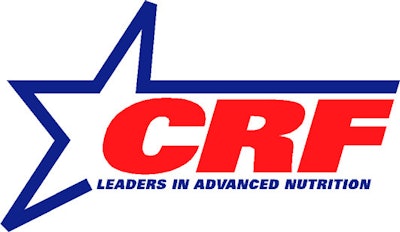 Dr. Christopher Mateo, senior director, Innovation - Livestock Production with Sollio Agriculture was elected president of the board of directors for Cooperative Research Farms, during the April meeting of the CRF Board.
Dr. Mateo joined Sollio in 2018 when Sollio Agriculture purchased Standard Nutrition Canada where he was employed since 2009, serving as Managing Partner; General Manager of the Northwest Region; and as the Director of Nutrition, Canada.
Dr. Mateo received his PhD from South Dakota State University in 2005 and his Master of Science degree was received in 2001 from the University of the Philippines at Los Baños. He also received his Doctor of Veterinary Medicine in 1997 from the University of the Philippines at Los Baños.
"I am grateful for the vote of confidence given to me by my fellow board members," says Dr. Mateo. "It is truly a great honor to serve Cooperative Research Farms in this capacity. I appreciate the steadfast contributions of the management team, research committee, research coordinators, and members that drive the success of this esteemed organization."
Todd Steen, ruminant nutritionist with Tennessee Farmers Cooperative, was elected vice president. Steen has been involved in CRF for the past thirty years and an active member of multiple CRF Research Teams and Committees
Paul Kalmbach, CEO of Kalmbach Feeds, Inc. was elected treasurer. Kalmbach has served on the CRF board of directors since 2003
CRF's General Manager David Ott was appointed secretary
About Cooperative Research Farms
CRF is a multi-national organization of feed manufacturers in North America and Europe. For 67 years, CRF members have worked together conducting thousands of nutrition- and management-related research trials for the benefit of its customers. The members of CRF include Federated Co-operatives, Ltd., Saskatoon, SK; Kalmbach Feeds, Inc., Upper Sandusky, OH; MiXscience, Bruz, France; Sollio Agriculture, Montreal, QB; and Tennessee Farmers Cooperative, LaVergne, TN. The combined scope of the CRF membership represents 13 million metric tons of final feed equivalents, 45-member owned feed mills manufacturing feeds of the highest quality, 1,615 employees working to provide superior animal nutrition products and 93 highly skilled individuals employed in research, development, and technical support.