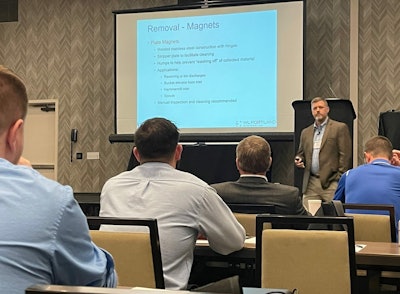 Animal feed industry professionals recently assembled in Nashville, Tennessee, for USPOULTRY's 2023 Feed Mill Management Seminar.
The two-day program covered a variety of topics, from regulatory updates to shrink control, control systems cyber protection, evolving energy opportunities, dust accumulation and more.
Isaac Kinnard, network engineer for CPM Beta Raven, and Pete Ensch, president & CEO of WEM Automation, discussed the significance of cyber protection for mill control systems. The importance of segregating mill systems from the internet and implementing appropriate access controls was discussed, including suggestions on how to do this. Ways to prepare for, mitigate and recover from a cyber attack were also discussed.
Dr. Adam Fahrenholz, associate professor with the Prestage Department of Poultry Science at North Carolina State University, spoke about the changing hiring landscape and the importance of positioning organizations so that they can successfully recruit and retain feed mill employees. The construction of feed mills in remote locations has advantages but also reduces the available pool of employees. Fahrenholz noted that feed mills have incorporated more automation and technology, requiring specific technical knowledge in addition to operational knowledge. Methods of developing employees and considerations made at various levels of the organization were also discussed.
In partnership with USPOULTRY and the American Feed Industry Association (AFIA), Gary Huddleston, director of feed manufacturing and regulatory affairs at AFIA, presented the 2022 Integrator Feed Facility of the Year award to Mountaire Farms' Scotland County feed mill in Maxton, North Carolina. Notable aspects of the facility's application included commitment to employee safety, particularly Mountaire's "Goal Zero" program, as well as community involvement through the "Mountaire Cares" program and animal food safety.