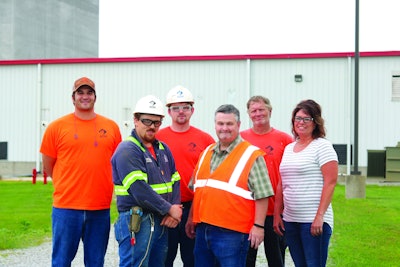 "The future of pet food is here!" is ADM's Pet Nutrition division's motto. It's a bold claim, but one they can back due to their enormous investment in cutting-edge processing technology, an impressive portfolio of specialty and trend ingredients and a fervent dedication to quality control.
Indeed, the future looks bright for the pet food industry. It's grown immensely over the last decade into a $70-billion industry in 2017 according to the American Pet Products Association — a whopping 69% increase from 2007! That figure is estimated to grow to $72 billion by the end of 2018, driven by an increase in American pet ownership and pet owners' willingness to purchase specialty, high-end food and treats for their animals.
Recognizing the growth and anticipated continuation, in 2016 Chicago, IL-based ADM Animal Nutrition purchased a 256,000-square-foot soda-pop bottling plant in Effingham, IL, to renovate and consolidate three pet food and livestock premix facilities in the area into one location.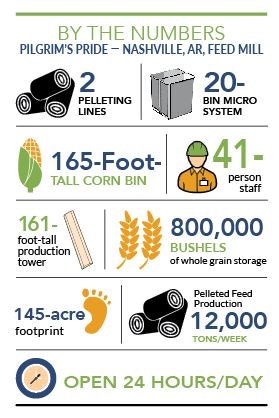 "The renovation was primarily driven by wanting to continue to grow," says Steven Allen, plant manager, ADM Animal Nutrition. "Our old locations didn't allow for the kind of growth that we think is attainable. This move provided the opportunity to improve our food safety, sanitation and all of our efficiencies at the same time as adding more space."
In August 2016, engineering firm Younglove Construction, LLC of Sioux City, IA, began construction on the $35-million complex, including a 28,000-square-foot addition to the warehouse and a new 160-foot slipformed production tower. The new facility officially opened 21 months later on May 7, 2018.
ADM is on track to decommission the third and final premix facility in the consolidation effort by the third quarter this year. Once the new location takes on the production from that plant, it will boast capacities of 1,500 tons/week of premix and dry ingredient blends for finished pet foods and treats, dairy, beef, swine, poultry, aquaculture and other specialty products. Eighty percent of its production is for pet food while the other 20% is for livestock feed.
State-of-the-art features inside the mill include automation within the receiving, batching, packaging and load-out areas, multiple batching systems with simultaneous weighing for greater efficiency and output, in-line screening, sizing and sifting capabilities and a bar coding system that uniquely identifies each item at every step from receiving to shipping. Allen says the new features have allowed ADM to increase its production by up to 75%.
Gravity does the work
The ADM Effingham production tower is gravity fed, meaning raw materials are hauled to the top of the 13-story building and descend downward at each step of production.
"The mixing tower is fed ingredients in a few different ways," Allen says. "First, we have a micro room for products that are weighed using a super sack addition system. We pull ingredients out of those sacks in small increments at a time, weigh them and send them upstairs in an elevator. We have another system that moves those same size super sacks and empties them into the bulk ingredient bins above our mixing area."
Ingredients stored in the warehouse on the first floor are gathered and put on a freight elevator to deliver them up to the upper floor.
All of the raw ingredients — bulk ingredients, hand adds and those from micro bins — eventually make their way to the common scale hopper on the seventh floor where the final batch is weighed before being sent to the three Scott Equipment Co., New Prague, MN, dual ribbon mixers.
From the mixers, the batch drops down and enters the feed cleaners where it's screened for oversized materials. Then it makes its way either to the scales or the magnets and metal detectors, depending on which line it's destined for.
"All of our production lines are equipped with the same metal detection equipment and magnets that are in state-of-the-art food production facilities," Allen says. "These final steps, where it goes through our food protection system before moving out to our bagging lines, are crucial."
After screening and cleaning, the batch arrives on the first floor where it's directed to one of the two bagging lines or three tote lines by Premier Tech Chronos, based in Riviere-du-Loup, Quebec.
Bagging overhaul
The plant's bagging lines consist of four FANUC robotic baggers integrated with automatic changeover from the bagger to the palletizer. Once the bags of finished premixes are filled, they're either sewn or sealed shut before going onto the palletizer. Allen says the automation is a significant upgrade from their previous operations.
"The bagging is 100% automated here as opposed to doing it all manually before," says Allen. "We've completely changed our bagging process thanks to the equipment doing it all at the push of a button."
Preventing human error
The ADM Effingham facility is nearly 100% automated compared to being 5% to 10% automated at its previous locations, thus greatly reducing the risk of human error throughout production. The most instrumental technology in reducing human error, according to Allen, is its barcode scanning system utilized throughout the production facility, supplied by WEM Automation, LLC of New Berlin, WI.
Every ingredient that enters the facility at receiving is labeled with a unique barcode and entered into ADM's Oracle system, which aids in inventory tracking, product safety and recordkeeping.
Once a batch enters the production line, the system keeps track and lists all the ingredients added as it progresses from batching to mixing to cleaning and bagging. Finally, that barcode is printed on the finished product either on the bag or the tote — depending on its destination.
When creating smaller batches by hand adding, employees start by pulling up the formulation on a kiosk. The employee then scans each ingredient microbin indicated in the formulation list to release the appropriate amount of ingredient into the mixer. If an incorrect bin is scanned, the bin gate won't open. The system only allows matching ingredients to be dumped into the production process.
"It's as sophisticated as you can get in helping to prevent human error," says Allen. "It's the pinnacle of our food safety and quality control program." ❚