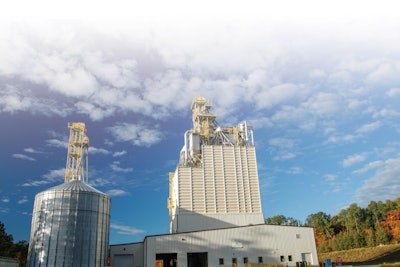 Last spring, Ceres Solutions, based in Crawfordsville, IN, opened a new 2,200-ton-a-week feed facility in White Cloud, MI, to replace its aging 100-year-old mill. The new location features 90,000 bushels of bulk storage, 37 ingredient bins, state-of-the-art mixing and batching equipment, 18 load-out bins and is fully automated. It manufactures pelleted, mash, texturized and bagged feed for multiple species to serve all of its customers' feed needs from a single location.
The decision to invest in a new mill 15 miles northwest of its old location in Fremont, MI, was guided by the company's principle: "In every action, every day, we put each customer further ahead to build success for all." Recognizing that the company's former Fremont location struggled with product consistency, lacked modern biosecurity controls and couldn't meet all aspects of the Food Safety Modernization Act (FSMA), Ceres' leadership set out to better serve its customers.
Plus, it needed room to grow the feed division, which represents just 3% of its business, according to Martin Hall, Michigan regional manager, Ceres Solutions.
"We were out of capacity and had additional demand for feed that we couldn't meet," Hall says. "We looked at the expanding livestock industry in Michigan — hogs, dairy and turkeys — and concluded that if we were going to stay in the feed business long term, we had to invest in a new operation."
In 2016, the cooperative's board of directors (under the name North Central Cooperative at the time) agreed to site the new mill in an unlikely location — the Huron-Manistee National forest, miles away from any fields, farms or agricultural facilities.
Isolation strategy
Nearly 15 years ago the state of Michigan built an industrial park on the edge of the national forest surrounding White Cloud to spur economic development in the community of about 1,300 residents. The project brought in roads, gas, electric, water and sewers to the forest. But despite access to infrastructure and utilities, no businesses took residence in the industrial park.
The isolation of this site appealed to the co-op's leadership. Pathogen control is a top priority because it serves three different species — primarily dairy, swine and poultry. Henry Huisjen, feed operations manager, Ceres Solutions, says the production is split 50% swine, 25% dairy, 20% turkey and 5% everything else, including specialty calf feed.
"In our efforts to become a biosecure facility, we didn't want to be situated next to a hog, dairy or chicken facility," Hall says. "This was about as isolated as we could find, yet still have the existing infrastructure we were looking for."
They became the first company to purchase land in the industrial park — a wooded 13-acre parcel — and began the request for proposal process to select a builder. They awarded the project to engineering, design and building firm AGRA Industries of Merrill, WI.
In the summer of 2016, contractors began clearing trees and excavating — by October 2017 they started pouring the foundation. Construction continued through March 2018 and operations began on April 12, 2018.
Operation highlights
The new feed mill is equipped with state-of-the-art grain receiving, feed manufacturing and load-out equipment. Starting with its two grain receiving pits rated at 7,500 bushels/hour, it can take inbound ingredients into the mill while simultaneously receiving whole corn for bulk storage. The system is automated by Sussex, WI-based Repete Corp., and Huisjen said it is both highly responsive and fast. It keeps the Schlagel, Inc. (Cambridge, MN) drag conveyors and AGRA elevator legs at full capacity without plugging.
Incoming grain is cleaned with screeners by EBM Mfg. of Norfolk, NE, and Rotext Global, LLC, based in Cincinnati, OH. The location has 90,000 bushels of bulk storage on site in upright steel bins by Brock Grain Systems of Milford, IN. That's about eight days' worth of supply for the mill's current needs, according to Huisjen.
Inside the mill, the main batching system consists of nine different scales that are all controlled by the Repete automation system and a 6-ton twin ribbon mixer by Scott Equipment Co. of New Prague, MN. Two major scale hoppers handle all the main commodity ingredients, followed by a minor scale for small inclusions of minerals or premixes. An AGRA Industries microingredient system mounted on loss-in-weight scales is also integrated into the system.
The second batching system, a Scott Equipment Co. 2-ton specialty texturize mixer, is used only for specialty calf feeds. Meanwhile, a 1-ton batching system by Scott is used for specialty mineral premixes and is the only mixer that reaches the dedicated premix bagging line. The Repete automation system completes automatic flushes between batches and helps them meet FSMA record-keeping requirements by tracing each load.
The mill's 36-ton/hour triple-stacked roller mill was furnished by RMS Roller Grinder of Harrisburg, SD. Huisjen said the equipment has helped Ceres improve both product consistency and customer satisfaction.
"We grind our corn to around 575 microns, so we can use that grind for our mash feeds and pelleted feeds," says Huisjen. "This is a great system that achieves proper final mash micron size for our integrator customers."
CPM Roskamp Champion of Waterloo, IA, provided the 30 ton/hour pellet mill. Rounding out the pelleting line are a pellet cooler and crumbler by CPM Roskamp Champion and a pellet coater by APEC, based in Lake Odessa, MI, for applying liquids to the finished pellets or crumbles.
Upon completion, finished feed makes its way to the 18 load-out bins, amounting to 522 tons of storage. The various bin contents are segregated by species and type of feed.
"The swine feeds are segregated into their own load-out hopper," Huisjen says. "Pelleted feeds are segregated into their own load-out bins while other mash feeds are sequenced accordingly to follow each other through the remaining load-out bins."
Ceres loads out all of its feed by truck with the AGRA Industries load-out system. The process is manned by a control room operator who uses a closed-circuit TV to see if the driver needs to pull ahead or back up to line up with the load-out shoots. The operator then uses a touch-screen to empty the load into the truck, so the driver never needs to leave the vehicle.
For bagged feeds and premixes, there are two bagging lines by Magnum Systems of Parsons, KS. One is dedicated for texturized beef feed; the other to mineral bagging. Bags are loaded onto trucks at a loading dock to take to Fremont.
The Fremont location was decommissioned as a feed mill, but remains a grain elevator and retail store. All feeds made for customer pickup are transported to Fremont, while other customers receive bagged deliveries direct to the farm, so nobody has to enter the White Cloud production facility beside its 11 full-time employees and select suppliers.
Biosecurity levels
Ceres Solutions enforces a tri-leveled biosecurity program, in which Level 1 means there are no known outbreaks . Workers and visitors are required to step through foot disinfectant baths or change into clean shoes before entering the mill under Level 1 conditions.
Level 2 goes into effect if there is an outbreak in the region. In this case, employees must remove their street clothes and shoes, wash hands, and put on a clean uniform and shoes. A local outbreak puts the facility at risk Level 3, where limited personnel are permitted to enter and must thoroughly shower and put on new shoes and clothes upon entering.
Biosecurity measures are in place for vehicles as well. "We have strict biosecurity protocol that needs to be followed and we reserve the right to refuse [trucks] if they do not meet our sanitary standards," said Hall.
Inbound vehicles' tires and undercarriage are sprayed with a foam disinfectant by a washing device mounted on the driveway before entering the facility. By the time the vehicle drives to either load-out or receiving, the disinfectant will have had time to kill any pathogens on it.
With leading-edge manufacturing equipment, automation and biosecurity measures, Ceres Solutions is poised to fully service its customers' needs while remaining competitive well into the future. ■
At-A-Glance:
Ceres Solutions
Headquarters: Crawfordsville, IN
Year Established: 2017 as a merger of Ceres Solutions, LLP and North Central Cooperative
Total members: 9,000
Number of employees: 650+
States Served: Indiana, Michigan
Number of Customers: 40,000+
Services provided: agronomic, energy, feed, fertilizer, seed, technology
Total locations: more than 60
Feed locations: 2
Feed Product Offerings: Custom dairy feeds, calf feeds, swine feeds, poultry feeds, pelleted feeds, bulk commodities, sheep feeds, equine feeds