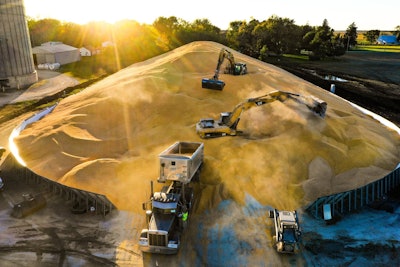 The long-awaited harvest 2019 is finally upon us. With the return of the season comes Feed & Grain's annual Harvest Photo Contest.
Share your best pictures of your facility's ground piles, bins, grain bags, temporary structures and material handling solutions for a chance to win a Visa gift card.
Prizes will be awarded to the images that best showcase the unique and innovative ways you're managing harvest inventory at your location in 2019.
First place wins a $100 Visa gift card, second place wins a $75 Visa gift card, and third place wins a $50 Visa gift card. Winners and their photos
will be published in Feed & Grain's February/March 2020 issue.
To enter the contest, email elise.schafer@feedandgrain.com a high-resolution jpeg, tif or png image that is at least 600 x 600 pixels. Each submission must include your name, company name, location and a brief description of the photo. The deadline is Nov. 30, 2019.
Don't forget to share your photos with the Feed & Grain online community on Facebook, Instagram and LinkedIn using #fgphotocontest.
Questions? Contact Elise Schafer at elise.schafer@feedandgrain.com.