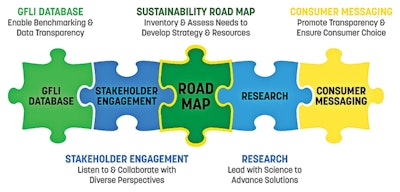 The Institute for Feed Education and Research (IFEEDER) has launched a new project to make a sustainability road map for the feed industry. Sustainability has become a hot topic in agriculture recently, with industry-leading companies such as Cargill launching large-scale sustainability efforts and making it a core part of its messaging to consumers. Those consumers have made their voices clear: sustainable, environmentally friendly practices are important factors in their purchasing decisions.
The questions feed manufacturers are now asking focus on what sustainability means to the industry, what can be done to be more sustainable, and how to implement more sustainable practices. Partnering with The Context Network, IFEEDER seeks to answer, at least in part, these questions for the feed industry.
"Our recent conversations with member companies about their sustainability programs have illuminated the fact that everyone in our industry — no matter where they are in their sustainability journeys — wants to do more to help their customers achieve their climate pledges and meet changing consumer expectations," says Lara Moody, IFEEDER's executive director.
"By leveraging the expertise of The Context Network, our goal is to use research and analysis to identify and advance strategies and tools our members can use to improve their sustainability programs and meet the needs of their stakeholders."
The project has a three-part development process:
Phase One: Develop a gap analysis to understand the barriers preventing companies from launching or measuring sustainability program progress and mapping the stakeholders impacted by industry initiatives
Phase Two: Conduct qualitative and quantitative research by working with select scientific advisors focused on environmental sustainability in the feed industry along with American Feed Industry Association (AFIA) members and key supply chain advisors
Phase Three: Develop key findings, tools and strategies the industry can use to advance sustainability programs and communicate their vision to key influencers
IFEEDER and The Context Network have created an on-demand three-part webinar series that answers some of the questions surrounding sustainability.
These short, informative webinars are designed to help viewers understand the issue and its importance to the feed industry. Topics include defining sustainability, downstream expectations and agricultural carbon. ■
Industry Partners
Though still in Phase One, IFEEDER's project with The Context Network has garnered interest from the industry. Here are some of the companies joining the effort:

■ Arm & Hammer Animal and Food Production
■ Animix
■ Anipro/Xtraformance Feeds
■ Belstra Milling
■ Berg+Schmidt America
■ Bill Barr & Co.
■ CJ Bio America
■ Elanco Animal Health
■ Kemin
■ United Animal Health
■ Westway Feed Products
■ Zinpro Corp.