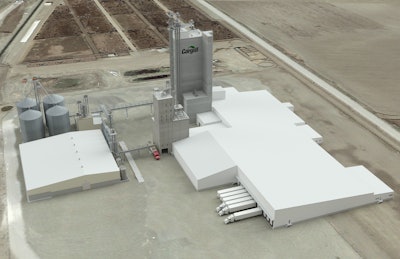 Courtesy of Cargill
Cargill is building a new facility in Granger, Washington, solely focused on producing feed for current and potential ag retail locations in the region.
"The new Granger retail feed facility expands our existing retail feed footprint, enabling us to better service our retail customers and their farm and ranch customers in the Pacific Northwestern region," said Mariano Berdegue, regional managing director for Cargill Animal Nutrition – North America.
"As we seek to serve the needs of consumers where and when they shop, we are growing with retailers who are meeting those needs both in-store and online."
New facility will produce 125,000 tons of feed annually
The new Granger retail feed operation is a stand-alone facility that will sit on the same site as Cargill's bulk dairy feed mill.
The facility will house pellet mills, packaging lines, a warehouse, office space, breakrooms and locker rooms for employees.
Initially, the facility will produce more than 125,000 tons of feed annually, which will be packaged and sold under Cargill's Nutrena brand and many customers' brands. Cargill broke ground on the new facility in early May 2023 with an anticipated operating date of fall 2024.
"We value our long-standing relationship with Cargill because they understand our business, our values and our priorities," said Mark Schmitt, D&B Supply president. "The opening of the new Granger retail feed operation is a testament to Cargill's commitment to helping us service our customers and grow our business in the Pacific Northwest."
In addition to meeting the growing feed needs of lifestyle and backyard farmers, Cargill says the new retail feed facility:
Brings 15 to 20 new jobs to the local community
Offers a new opportunity for local farmers to sell their crops
Eliminates more than approximately 2 million truck miles and 5,000 tons of CO2 annually
"Demand for our Nutrena, ProElite, Record Rack, Black Gold, and Sunglo products has never been stronger," added Berdegue. "It has been our privilege to feed over 52 million animals over the last 12 months, and our sights are set even higher for the future."