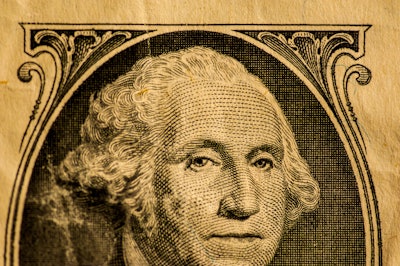 For the first time in a quarter century, monetary fines for violations of federal Occupational Safety and Health Administration's (OSHA) workplace safety and health standards are set to increase. In the intervening 25 years, three things had remained constant:
1. The maximum per violation penalty that the Occupational Safety and Health Act (OSH Act) authorized for "serious" and "other than serious" violations has been $7,000, and for "repeat" and "willful" violations has remained $70,000;
2. The assistant secretary of labor for OSHA makes an annual pilgrimage to the Hill where he or she pounds on the table and demands that Congress enact OSHA reform legislation to increase the maximum penalties OSHA can assign (with common refrains like: "employers can be fined more for mistreating cattle on federal lands than for allowing an employee fatality!"); and
3. There has been one iteration or another of OSHA reform legislation that would increase civil and criminal liability for OSHA violations (usually dubbed the "Protecting America's Workers Act") floating around Congress and stalling before it even gets out of committee.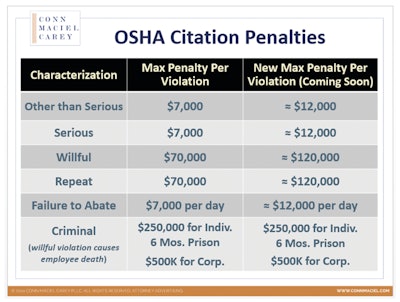 Yet last fall, Republican-controlled House and Senate notwithstanding, through the backdoor came a congressionally-mandated increase in OSHA civil penalties of nearly 80%. The much publicized Bipartisan Budget Act of 2015 garnered support last year at the culmination of budget negotiations to resolve the questions of whether the U.S. would default on its debt and shut down again. While the public was focused on the portions of the law that would keep the government operating, no one noticed the much less publicized provisions in the law that mandated a cost of living "catch-up" adjustment for OSHA penalties to be implemented this year, as well as indefinite periodic increases to match the rise in the cost of living in the future.
The Bipartisan Budget Act of 2015 was passed by both houses of Congress and signed into law by President Obama this past November. Sec. 701 of the Act, titled "Federal Civil Penalties Inflation Adjustment Act Improvements Act of 2015," gives OSHA the green light to increase penalty amounts to catch up with cost of living adjustments since the last time OSHA's civil penalties were raised was the Omnibus Budget Reconciliation Act of 1990.
The provision in the Budget Act authorizing the civil penalties adjustment provides for a onetime "catch-up adjustment" that must be implemented by no later than Aug. 1, 2016. The catch-up adjustment is based on the percentage growth in the Consumer Price Index (CPI) from the last time OSHA penalties increased in 1990 (so using the October 1990 CPI) to the CPI at the time of the Bipartisan Budget Act of 2015 (so using the CPI reported on Nov. 17, 2015). The October 1990 CPI was 133.5 and the October 2015 CPI was 237.838 — a 78% increase.
Procedurally, the bill directs OSHA to promulgate the penalty increases by way of an interim final rule, which allows the changes to become effective immediately upon publication in the Federal Register, with comments by stakeholders to be solicited after the fact.
OSHA has indicated its intention to increase penalties by the maximum allowable 78%, which means that maximum civil penalties for alleged "serious" and "other than serious" violations will increase from $7,000/violation to approximately $12,500, and for alleged "willful" and "repeat" violations from $70,000 to approximately $125,000/violation.
After the initial catch-up increase, the Act also authorizes OSHA to continue to adjust penalties upward as the CPI continues to rise.
OSHA has also announced its position that the penalty increases will apply retroactively to citations issued after the implementation date, even if the citations are based on violative conditions detected during inspections prior to implementation of the new penalties. This retroactive application of the new regulation means that many employers already being inspected will be subject to the higher penalty structure.
The grain industry remains one of OSHA's most scrutinized industries, with Grain Handling Local and Regional Emphasis Programs still active in all of the major agricultural states in the U.S., and "Grain Handling" included as a "high emphasis hazard" to qualify employers into OSHA's dreaded Severe Violator Enforcement Program ("SVEP"). As such, grain handlers are vulnerable to enforcement actions with these new significant monetary penalties. In particular, because of the barrage of programmed inspections at grain elevators under the Emphasis Programs, even in the absence of incident, accident, injuries and employee complaints, and typical return visits by OSHA every three years or so, grain handlers are uniquely susceptible to "repeat" violations, which will soon carry penalties over $100,000 apiece.
In 2015, OSHA issued 615 citations to grain employers. The most frequently cited standards that grain employers faced included:
• 1910.272 (Grain Handling Standard) — 20% of citations
• 1910.305 (Electrical wiring methods and equipment) — 11% of citations
• 1910.178 (Powered industrial trucks) — 8% of citations
• 1910.219 (Mechanical power-transmission apparatus) — 6.5% of citations
• 1910.23 (Guarding floor and wall openings and holes) — 6.3% of citations
• 1910.303 (General electrical safety) – 5.8% of citations
• 1910.27 (Fixed ladders) — 5% of citations
• 1910.146 (Permit-required confined spaces other than grain bins) — 3% of citations
• 5(a) (1) (General Duty Clause) — 2.5% of citations
• 1910.134 (Respiratory Protection) — 2.3% of citations
Grain employers should use this list to prioritize compliance audits in their workplaces, and ensure they are tackling the areas where they have the greatest risk of OSHA citations. Because increased price tag associated with repeat violations, employers should also review any prior citations they have received at any of their facilities, and ensure that any abatement measures have been completed and remain in effect at all of their locations.
In addition to the higher civil penalties, grain employers should also be wary of the rise in criminal prosecutions and the Department of Justice's increase in prosecuting crimes involving worker safety, as well as a focus on charging individual managers, not just companies. In a Dec. 17, 2015 Memorandum of Understanding on Criminal Prosecutions and Worker Safety Laws ("MOU"), Deputy Attorney General Sally Yates announced a new initiative to pursue all manner of individual corporate wrongdoing, and specifically to seek criminal charges in cases involving worker endangerment. Under this new initiative, the Justice Department's Environment and Natural Resources Division and the U.S. Attorneys' Offices will work with the Department of Labor's OSHA, Mine Safety and Health Administration and Wage and Hour Division to investigate and prosecute worker endangerment violations.
Deputy Attorney General Yates explained that "[g]iven the troubling statistics on workplace deaths and injuries, the Department of Justice is redoubling its efforts to hold accountable those who unlawfully jeopardize workers' health and safety." The assistant secretary of labor for OSHA, Dr. David Michaels, emphasized OSHA's commitment to assisting the Department of Justice in the prosecution of workplace safety crimes:
"More frequent and effective prosecution of these crimes will send a strong message to those employers who fail to provide a safe workplace for their employees. We look forward to working with the Environment and Natural Resources Division to enforce these life-saving rules when employers violate workplace safety, workers' health and environmental regulations."
With the increased focus on holding employers accountable criminally and the fact that OSHA is already scrutinizing the grain industry (declaring all grain related hazards to be "high emphasis hazards"), OSHA will likely be on the lookout for opportunities to pursue criminal charges in grain industry fatality cases. Employers should also expect a ramped-up effort by government officials investigating workplace safety violations to look for other possible criminal violations, under not only the OSH Act, but also the myriad environmental statutes and the federal criminal code (e.g., falsifying OSHA documents, lying to OSHA representatives, etc.). ❚