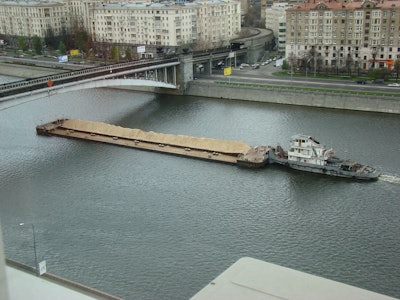 In the overnight session grain was mostly higher with March corn up a cent, January soybeans up 3 ¾ cents and March wheat down ¾ of a cent. Soybeans met significant selling pressure yesterday after gapping higher and trading to November 9th highs. By the close of the day session January Soybeans had given back $.09 ¾ of the rally and closed near the opening tick. This morning's trade has brought soybeans back above the $10.00 mark. The March corn contract briefly traded at $3.60 yesterday before selling pressure took over bringing the contract down to $3.525 by the close. The 20 day moving average is again overhead at $3.54 ¾ which may offer up some resistance in today's trade.
Exporters sell 162,000 metric tons of grain sorghum for delivery to China during the 2017/2018 marketing year.-USDA
Looking for $7 a trade commissions with streaming real-time quotes for only $1/month; try a Demo of the Grain Hedge Platform!
Grain movement down the Ohio River has ground to a halt after a large traffic jam keeps barges from making progress down the waterway. The problem area is at Locks & Dam No. 52 near Paducah which has offered trouble earlier on this fall. It is now the second shutdown in 2 months caused by worn or missing sections of the Dam.
Australian wheat has experienced significant precipitation over the last week with the weekend bringing the most intense rainfall. The moisture has surely damaged some crop and has traders concerned quality problems and the possibility head sprouting in some areas. Harvest has mostly stalled until the fields dry, but the forecast for Eastern Victoria and Southeastern New South Wales is for off-and-on rain throughout the week.
The risk of trading futures, hedging, and speculating can be substantial. Grain Hedge is a Branch of Foremost Trading LLC (NFA ID: 0307930)