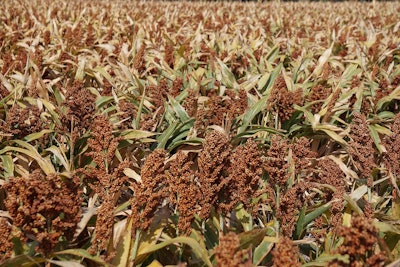 Export Sales
Cancellations of export sales of 949,000 metric tons of soybeans for delivery to unknown destinations. Of the total 829,000 metric tons is for delivery during the 2017/2018 marketing year and 120,000 metric tons is for delivery during the 2018/2019 marketing year; and
Export sales of 168,000 metric tons of soybeans for delivery to unknown destinations. Of the total 56,000 metric tons is for delivery during the 2017/2018 marketing year and 112,000 metric tons is for delivery during the 2018/2019 marketing year.
China's Anti Dumping Claim on Sorghum Ends
China abruptly ended it's anti-dumping claim on US sorghum today in a sign of good-will to the US during China's Vice Premier visit to the US to improve trade tensions. The Commerce Minister said in a statement that the penalties imposed would hurt China's consumers causing meat prices to rise. It's not thought much sorghum will flow there now at this late in the marketing season. Furthermore, sorghum is still on the list of ag products the Chinese government would include 25% tariffs on. Ongoing China-US talks in Washington this week had been rumored to include a Chinese concession to reduce the trade imbalance from $375 billion to $200 billion. But that rumor was quashed quickly by Chinese foreign ministry spokesman Lu Kang who told a regular news briefing."This rumor is not true. This I can confirm to you."
Overnight Tenders
Iraq bought 100,000 MT of hard wheat with 50K coming from the US and the other 50K coming from Australia. South Korea's largest animal feed maker Nonghyup Feed Inc. (NOFI) bought about 63,000 tonnes of feed wheat in a tender which closed on Friday, European traders said.
South America Estimates Slip Further
The Buenos Aires Exchange pegged Argentina's soy crop at 36 MMT, down from their previous forecast of 38 MMT and below USDA at 39 MMT. FC Stone is expecting further downward revisions to its projections for Brazil's main corn crop after rains in the first half of May were again below-average, worsening conditions for corn growth in key regions. "Earlier in May, our numbers indicated losses of 21 percent in Sao Paulo, 16 percent in Mato Grosso do Sul and 15 percent in Paraná. But considering the weather in the first half of May, it is almost certain that those losses will be bigger," FC Stone analyst João Macedo said in a report. The expectation is that losses in those regions could go up to between 20 percent and 30 percent, Macedo said.

The risk of trading futures, hedging, and speculating can be substantial. Grain Hedge is a Branch of Foremost Trading LLC (NFA ID: 0307930)