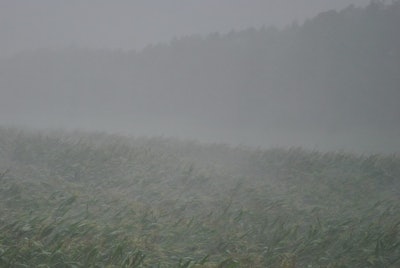 Heavy Rain Pattern Forecast for Western Corn Belt
Dale Mohler, a senior meteorologist at AccuWeather, claims that the western Corn Belt could see "record October rains" that he expects could delay harvest by up to two weeks. The 8- to 10-day forecast calls for 3-6 inches of rain to call from NW Missouri, E Nebraska, most of Iowa, N Illinois, and much of Wisconsin. Most of these states have had a good start to harvest so far but the only dry spot Mohler expects in October is from October 15-21.
U.S. Branch of JBS Recalls 6.5 Million Pounds Of Beef Due to Salmonella
One of JBS USA's meat packing plants in Arizona, JBS Tolleson Inc., has begun to pull raw beef products from store shelves after 57 people from across the country have become ill due to eating contaminated beef traced back to their plant. 6.5 million pounds of ground beef and hundreds of other beef products packaged from Jul 26 to Sep 7 are included in the recall, including products sold by Walmart. This is the second beef recall in the past few weeks, with Cargill recalling 132,606 pounds of ground beef due to an outbreak of E. coli which is believed to have caused one death and made 17 people ill.
Export Sales Announcement
Private exporters reported to the U.S. Department of Agriculture export sales of 134,000 metric tons of soybean cake and meal for delivery to the Philippines during the 2018/2019 marketing year.
Soybean Planting in Brazil Continues at Record Pace
Farmers in the Brazilian state of Mato Grosso do Sul have been reported to be 4.5% planted with soybeans, compared to 2.6% this time last year.The state is also expected to see planted bean acres increase by 7 million acres or nearly 5%, and yields of 52.3 bpa. In Parana, the second largest soybean producing state in Brazil, soybeans are 29% planted, up nearly 11% from last week and 13% from the previous year. The planting rate for first crop corn was also pegged at 70%, far ahead of this time last year when Parana was only 33% planted for corn. First crop corn represents about 33% of total Brazilian corn production. The faster soybeans are planted in Brazil, the sooner the heavy pace of exports resume. Excellent moisture and ideal weather have hurried planting along.
The risk of trading futures, hedging, and speculating can be substantial. FBN BR LLC (NFA ID: 0508695)