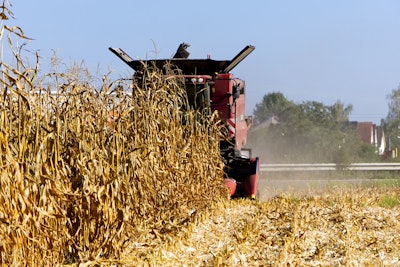 Corn Harvest Nearly Halfway Finished, Soybean Harvest Lags Behind Five Year Average
Yesterday, the USDA released their weekly Crop Progress report, which pegged corn harvest as 49% complete nationally, slightly above the five year average of 47%. Illinois and Indiana continue to make rapid progress but wetness further west has caused slow-downs for Iowa, Nebraska, and South Dakota. Soybean harvest is reporting in at 53% complete nationwide, well below the five year average of 69%. Iowa is significantly behind schedule at only 37% complete versus the average harvest completion of 71%. Across the US, winter wheat is now 72% planted. Kansas and Oklahoma are both lagging behind the average planting pace, likely due to frosts over the past week.
Chinese Grain Imports Fall Dramatically During Sept as Trade War Takes Its Toll
During the month of Sept, total grain imports by China fell significantly as trade with the US has ground to a halt and prices have soared in other countries such as Brazil and Argentina. For Sept 2018, corn imports fell 83.4% from last year to 40,000 MT, the lowest since Nov 2016. Sorghum imports fell 76.9% to 90,000 MT, which is largely used for animal feed in China. Barley imports also dropped 27.1% to 680,000 MT. Pork imports to China actually reported an increase of 8.4% to 94,317 MT as African Swine Fever continues to spread to hog farms across China.
Light Precipitation in Forecast, Temps Expected to Fall In The East
The 1-to-5 day forecast calls for scattered showers in the West, primarily over Nebraska, Kansas, E Colorado, and E South Dakota. The GFS model shows no more than 0.5 inches of precipitation. Rains are also forecast in the East, particularly over the Ohio River Valley in S Illinois, S Indiana, S Ohio, and N Kentucky. The next 5 days are also calling for lower temps in the central and eastern Corn Belt. Michigan, Indiana, and Ohio could see temps as low as the mid 30s over the next week and then another cold front is expected to move over the West the following week.
The risk of trading futures, hedging, and speculating can be substantial. FBN BR LLC (NFA ID: 0508695)