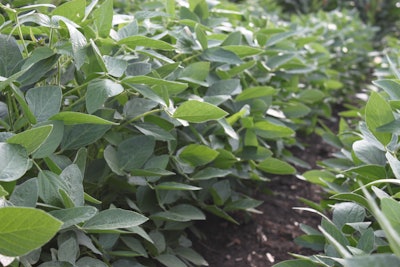 Export Sales Announcement
Private exporters reported to the U.S. Department of Agriculture export sales of 175,000 metric tons of corn for delivery to Mexico during the 2019/2020 marketing year.
USDA to Adjust 2019/20 Soybean Estimates in July WASDE
During a presentation to the International Grains Council on June 12, Robert Johansson, Chief Economist USDA, said that the government will be adjusting the U.S. 2019/20 supply numbers in the July WASDE.
In the June WASDE the USDA did not adjust soybean's supply or demand calculus for the 2019/20 crop year from the May report.
"I think we didn't have information to go on right now to change those soybean numbers, "Johansson said. "I think we will see adjustments being made to the soybean crop in the July WASDE. The conventional wisdom is that some of the corn acres would translate into bean acres and that translates into lower soybean prices."
The government lowered old crop export use by 75 MBU taking the ending stocks to a record high of 1.070 BBU.
What It Means for the U.S. Farmer: At FBN we were skeptical of the USDA's 2019/20 treatment of the soybean supply and demand calculus in the June WASDE and believe that leaving the supply side unchanged was an unrealistic assumption. Given corn's historically slow planting pace, FBN was expecting the government to raise planted soybean acres by 1.5 million acres in the June WASDE. We believe that the comments made by the USDA's Chief Economist Johansson reflect a realistic scenario. We also, however, expect acres data to manifest in the USDA's June 28 Acre report.
Chinese Delaying 2 MMT of U.S Soybean Imports from July to August
Beijing's state-owned companies are attempting to delay U.S. soybean imports from the U.S. from being shipped from July until August.
The exports in question reflect the 7 MMT that was purchased by China in December and January while the trade negotiations between the two countries was still in progress.
Delaying the exports until August does not present immediate concerns but further delays into September could create problems and impact prices as new crop export volume increases during the fall.
What It Means for the U.S. Farmer: At FBN we were cautious of the announcement made last week about China's desire to import the remaining 7 MMT of outstanding U.S. soybean sales. This latest development appears to justify our approach. Canceling the shipments would most likely result in financial penalties but we believe that further delays has the ability to pressure local basis levels which would be a negative for the U.S. producer.
The risk of trading futures, hedging, and speculating can be substantial. FBN BR LLC (NFA ID: 0508695)