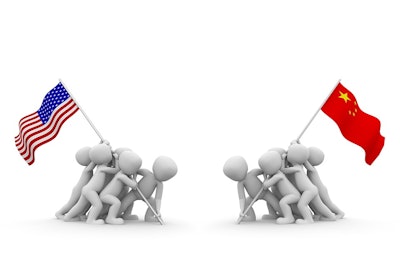 To be clear, it's not the best of times, nor is it the worst of times, but there was an interesting set of figures out of the planet's two largest economies last week. The National Bureau of Statistics in China reported the value of the manufacturing Purchasing Managers Index rose to 49.8 in September, up from 49.5 in August. For the United States, the manufacturing PMI came in at 47.8 for September, a noticeable drop from the 49.1 reported for August.
The PMI, in this case, is a survey of managers as to whether they think the sector is expanding or contracting. When the survey comes in at 50, things are neither growing or contracting. A survey value higher than 50 is expansion, one less than 50 indicates contraction.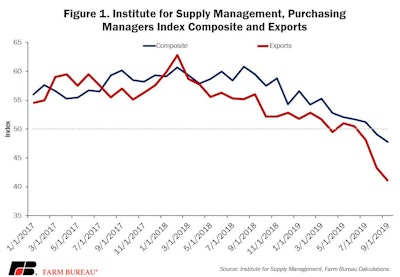 To be clear, the index in both countries suggests manufacturing is contracting, with the drawback somewhat more severe here than in China. The index for manufacturing exports from the United States is at a level suggesting significant contraction in sales abroad. What is probably more concerning is the steepness of the decline in export-related activity over the past three months. Both the composite and the export component have been declining for the last 18 months, but the drop-off in the last six months in trade-driven sales is noticeable.
The Chinese numbers, while up from August, are essentially unchanged. The difference between 49.8 (September) and August's 49.5 is probably down in the margin of error for this data stream, especially for China. But the path of their manufacturing PMI versus ours year-to-date does suggest we are moving in different directions. Admittedly the scale is substantially different between these two graphs, but our manufacturing sector is on a strong downtrend. The Chinese are at least holding their own for the moment.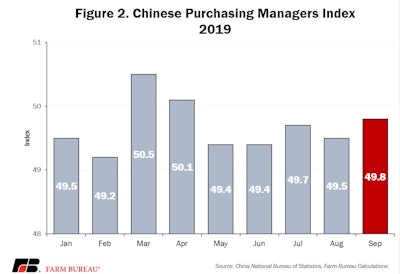 Contact:
Bob Young, President
Agricultural Prospects
Email: [email protected]