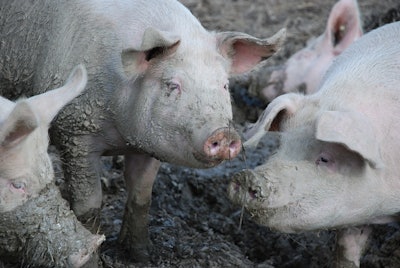 Crude Oil, Energy Prices Plummet on Failed OPEC Talks
WTI Crude Oil futures lost 27% and traded as low as $30.16 per barrel on news that OPEC failed to come to an agreement on crude oil production rates.
OPEC had convened to agree to a new round of production cuts, which Russia disagreed to. In response, Saudi Arabia vowed to increase their production by 10 million barrels per day in April.
Saudi Arabia and Russia are the #1 and #2 largest oil exporters and their clashing for market share will weigh heavily on US shale oil producers who do not enjoy the same breakeven levels as their foreign counterparts.
USDA to Stop US Hog Shipments if ASF Is Found
The USDA said that it will prohibit shipments of all U.S. hogs for at least three days if the nation ever finds a case of African swine fever (ASF).
The USDA would stop the transportation of pigs to help stop the disease from spreading.
The USDA is preparing to contain and eradicate ASF if it spreads to the United States to avoid the type of devastation seen in China.
With no vaccine available for ASF, the USDA recommends that infected pigs and others housed in the same barn be culled.
In China, ASF has reduced the size of the domestic hog herd by 40%.
China has the largest hog herd in the world.
FBN's Take On What It Means: We believe that the US is lucky to have not had any ASF outbreaks. We believe that if ASF were found in the US hog herd, this could be a negative for US row crop prices as demand for soybean meal, corn and DDGS could collapse.
China Grants Tariff Exemption on U.S. Soybean Imports
China has granted tariff exemptions for some crushers to import U.S. soybeans.
The exemption also includes wheat and DDGS.
The plan is aiming to fulfill commitments under its Phase 1 trade deal with the US.
The exemption, which will take effect from the day of issue, will be valid for a year.
Soybean importers will be exempt from the extra tariffs imposed on U.S. cargoes which are currently at 27.5% in total, after a small cut on Feb 14.
As part of January's Phase 1 deal, China promised to buy at least an additional $12.5 billion worth of U.S. farm products in 2020, and at least $19.5 billion in 2021, over the 2017 level of $24 billion.
FBN's Take On What It Means: We believe that China's selective exemption of the import tariff for US soybeans, wheat and DDGS has the ability to stimulate demand which can be a positive input for the US farmer.
The risk of trading futures, hedging, and speculating can be substantial. FBN BR LLC (NFA ID: 0508695)