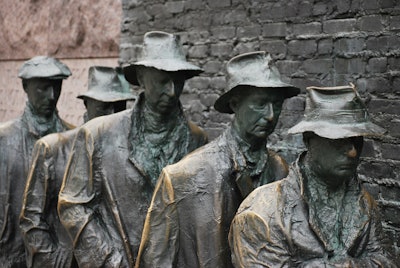 The ADP Employment Report for March, released April 1, indicated employment was down by a mere 27,000 jobs. That would be unbelievable even on a day we weren't expecting to be fooled.
Instead, we're bracing for 3.5 million people to apply for unemployment benefits for the week ending March 28, after 3.3 million filed the week earlier.
ADP collects their data as of the 15th of the month. As recently as March 15, there were only 3,000 confirmed COVID-19 cases in the United States.
Even nine days later, the president was calling for the country to re-open by Easter. Now, a little more than a week after that, we are adding over 20,000 new cases a day.
The March employment report released by the Bureau of Labor Statistics will come out later this week. As we talked about in last month's Market Intel on that report, the data for all BLS employment reports are collected the week of the 12th of the month, so don't be surprised if the BLS report also shows limited employment declines.
Clearly, the data is not keeping up with current conditions. Unemployment claims, a more timely source, show we have lost at least 6 million jobs since the middle of March, and we'll quite probably lose many more over the next few weeks.
If anything, these reports indicate how fast conditions are shifting under our feet. It won't be until we get the April employment report – and all the unemployment claims data between now and then – that we will begin to understand the magnitude of the hit we are taking.
Contact: Bob Young, President, Agricultural Prospects, [email protected]