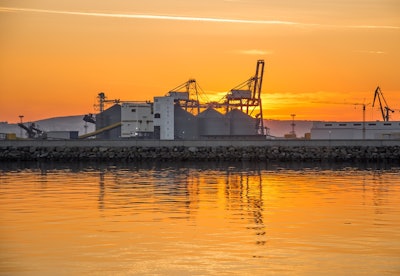 On July 8, the U.S. and Kenya kicked off a two-week first round of trade talks and agreed on a framework for U.S. technical assistance and capacity-building efforts in Kenya on July 8, according to the Office of the U.S. Trade Representative.
This is the fifth trade action for which the USTR has notified Congress of negotiation under Trade Promotion Authority. The agreement with Kenya follows notifications on USMCA, the United States–European Union Trade Agreement, United States–Japan Trade Agreement and the United States–United Kingdom Trade Agreement. The last three notifications all occurred in October 2018.
Under TPA, USTR is obligated to follow prescribed procedures and is required to conduct ongoing consultations with Congress. One of those requirements is to notify Congress at least 90 days before USTR intends to negotiate a trade agreement. The administration sent notification on March 17 for the Kenya negotiations. In addition, USTR is also required to publish negotiating objectives at least 30 days before formal trade negotiations begin. The U.S. negotiating objectives, including those for agriculture, were released in May. If the trade agreement and the related negotiation process meet certain requirements, TPA allows Congress to consider the required implementing bill under expedited procedures that allow the bill to be brought to the floor without action by the leadership for a guaranteed up-or-down vote with no amendments.
Passed in 2015, TPA was good for three years, through July 1, 2018, but the three-year extension the bill also provided keeps TPA active through July 1, 2021. However, the bill only provided for one three-year extension, which means that if a new TPA bill is not passed in 2021, the FTA negotiations with Kenya will need to be concluded and signed by July 1, 2021 for the agreement to be eligible for a guaranteed up-or-down vote with no amendments. This is not dissimilar to the situation with the FTAs with South Korea, Panama and Colombia which were signed prior to the expiration of TPA on July 1, 2007. However, signing an agreement and voting on an agreement are not the same thing. Despite their conclusion and signature in 2006 and 2007, the South Korea, Panama and Colombia agreements were not subject to a Congressional vote until 2011 and did not enter into effect until 2012.
How Big of a Market is Kenya?
Kenya, with a population of approximately 53.5 million, is the economic, financial and transport hub of East Africa. Kenya's real GDP growth has averaged over 5% for the last decade. Kenya imported $2.3 billion in agricultural products from the world in 2019, a 113% increase from 2010. However, the U.S. has a very small share of the Kenyan market – about 3% in 2019.
If Kenya isn't importing agricultural goods from the U.S. where are those $2.3 billion in imports coming from? As it turns out, a pretty wide variety of countries and regions. Kenya's largest trade partners are it's fellow African nations, which accounted for 30% of Kenya's imports last year. This share will be helped by the landmark African Continental Free Trade Agreement, which was signed in 2018 and connects 54 of the 55 members of the African countries. The agreement created the African Continental Free Trade Area (AfCFTA) that to date includes 30 countries. The goal of the AfCFTA is to double intra-African trade flows from January 2012 and January 2022. Kenya imports a wide mix of agricultural products from fellow African countries, with the most significant products being milk and cream, sugar, corn, tobacco, grain sorghum, soybean meal and fresh fruits and vegetables.
ASEAN-10 countries are the second largest source of Kenya's agricultural imports, accounting for 25% of Kenya's imports last year. The ASEAN-10 is defined as Brunei Darussalam, Cambodia, Indonesia, Laos, Malaysia, Myanmar, the Philippines, Singapore, Thailand and Vietnam. The most significant products from this region are palm oil, rice, sugar, prepared foods and fresh fruits and vegetables.
After ASEAN-10, the EU-27 was the next largest supplier, accounting for 10% of Kenya's agricultural imports in 2019. The most significant products from this region are wheat, malt, dairy products, prepared animal feed, beer, rapeseed, wine and pork. As shown in Figure 1, the EU-27 has had a steady presence in Kenya over the last decade.
Rounding out the top five suppliers to Kenya are a group of South Asia countries SAARC and a grouping of countries described in Figure 1 as newly independent states. SAARC's member states are Afghanistan, Bangladesh, Bhutan, India, the Maldives, Nepal, Pakistan and Sri Lanka. The newly independent states are defined as Armenia, Azerbaijan, Belarus, Georgia, Kazakhstan, Kyrgyzstan, Moldova, Russia, Tajikistan, Turkmenistan, Ukraine and Uzbekistan. Top products from SAARC include rice, soybean meal, sugar, corn starch, tobacco, palm oil, vegetable seeds, glucose and grain sorghum. Top products from the newly independent states include wheat, sunflower oil and dried peas.
Finally, Kenya is U.S. agriculture's 13th largest export destination in Africa and 97th largest export destination overall. U.S. ag exports to Kenya in 2019 totaled $53 million, less than 1% of the $136.6 billion in total U.S. ag exports in 2019. Wheat, pulses and vegetable oils were the top export items from the U.S. to Kenya in 2019. At $27 million and accounting for over half the total U.S. ag exports to Kenya, wheat was by far the largest U.S. agricultural export.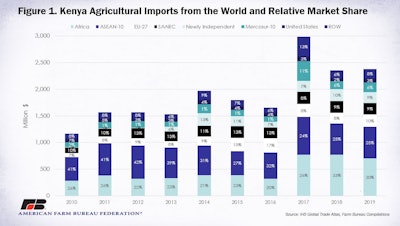 Likely Sticking Points
While the negotiations are brand new, it is not difficult to imagine that agriculture might be a difficult topic of discussion. According to the CIA World Factbook, agriculture remains the backbone of the Kenyan economy, contributing one-third of GDP. About 75% of Kenya's population work at least part-time in the agricultural sector. The sensitivity to agricultural imports is demonstrated in some ways by the relatively high barriers to U.S. exports. According to the Congressional Research Service, the average tariff on U.S. agricultural goods is 20.3%, with relatively high tariffs on dairy (51.7%), animal products (23.1%), and cereals (22.2%).
Conclusion
The United States has free trade agreements in force with 20 countries. Kenya would be the second FTA partner that the U.S. has on the continent of Africa, following Morocco which came into effect in 2006. Negotiations are just beginning, but this agreement has the potential to open up trade with a growing market and make an important statement about the U.S.'s desire to expand trade with African countries.
Contact: Veronica Nigh Economist
(202) 406-3622