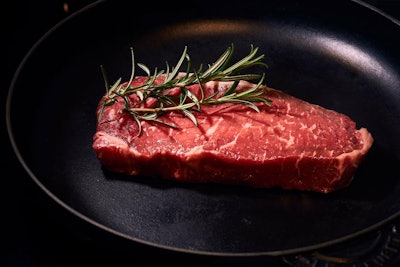 From trade wars to animal disease outbreaks, and, of course, COVID-19's upending of supply chains, there have been numerous disruptions in agricultural trade over the last several years. While maybe not at the same level of significance as these other events, an ill-advised export ban by Argentina is yet another trade-related event to add to the list.
Last week, Argentina's president announced a 30-day ban on beef exports as part of an attempt to control rising inflation, which is approaching 50%. In protest, the country's main farm groups said they would launch a nine-day halt in livestock trading. There are also reports of processing plants in the country shutting down in response to this decision.
While the export ban could very well be counterproductive for Argentina, it is unlikely to have a negative impact on U.S. producers and may even lead to increased U.S. beef exports. While the immediate impacts of the Argentine government's decision are short-term (assuming the ban is not extended), it has the potential to disrupt beef import and export supply chains and will likely place upward pressure on already elevated beef prices.
Argentina as a beef exporter
In 2020, Argentina was the world's fifth-largest beef exporter, exporting over 700,000 metric tons of beef and beef products. China/Hong Kong is by far Argentina's largest customer, accounting for over two-thirds of the country's beef exports. The next largest customer is Russia, at 7%, followed by Chile, Israel and Germany at 5%, 4% and 3%, respectively.
Argentina hasn't historically been as large an exporter as it currently is, largely increasing its exports over the last three or four years and posting a five-year increase of over 200% in 2020. As Argentina's global exports have increased, so have purchases from China/HK, growing from 16% of Argentina's exports in 2012 to 70% in 2020 and pushing China/HK to the top of Argentina's customer list. In the early years of this time frame,
Hong Kong constituted the lion's share of those exports and mainland China was virtually zero. However, as incomes have risen in the country and consumers' tastes and preferences have changed, China came to demand more and more of that share. The onset of African Swine Fever at the end of 2018 precipitated increased Chinese demand for all animal proteins, helping to drive this increase in Argentina's beef exports.
Since Argentina is the fifth-largest beef exporter in the world, shutting down beef exports for a month certainly has implications for other exporters, but the level of those implications also depends on any seasonality in Argentine exports. The easiest analogy here is soybeans; the U.S. and Brazil are essentially on countercyclical production schedules, and exports from each country tend to center around harvest time. In the U.S. that is in the fall, so if the U.S. was prevented from exporting soybeans in October or November (a time when Brazil would likely not be able to make up the shortfall), the implications to global soybean supply chains would be severe.
When we look at Argentina's beef exports (Figure 2), instead of exhibiting severe seasonality, exports seem to be on more of a constant upward trend as the year progresses, particularly from mid-2017 on. There certainly is some month-to-month variation, but this time of year does not seem to experience a typical expansion or contraction (although during the last two years there has been a 30% increase in May relative to January, but slight contractions the three years before that).
The 30-day window of the export ban does not neatly align with either May or June, but if we examine recent years' beef exports for Argentina for the month of June and compare them to global beef imports for that same month, we are seeing Argentine exports amount to an increasing percentage of the global import market. In June 2020, this volume was equal to over 8% of global imports.
Where else does China import its beef from?
With the decimation of China's swine population, the country significantly stepped up its imports of animal protein over the last two years. Pork imports generally grew the most, but both beef and poultry imports had sizeable increases over the last several years as well. Figure 3 shows where China's beef imports are coming from, and how that growth has changed over time. Five years ago, Australia was China's largest beef supplier, with Uruguay providing a decent share as well.
Starting in 2015, we begin to see two things happen; first, we see China's overall beef imports begin increase substantially year-over-year, particularly from 2018 onward. Second, we see the share of those imports largely shift to South American countries.
This doesn't mean Australian product moving into China declines, it's actually increasing over that time period. Instead, new volume moving in from Brazil and Argentina captures the vast majority of the growth in beef imports by China. In 2020, Brazil accounted for 40% of the country's beef imports, while Argentina was the second-largest supplier with 23% of Chinese imports.
Impact on U.S. Beef Producers
Ultimately, we are interested in any impact that this could have on U.S. producers and U.S. exports. When looking at data from Global Trade Atlas, we can see year-to-date exports for U.S. beef and beef products from January to March. So far, this year is tracking just barely ahead of 2020, but 9% ahead of 2019.
However, USDA's export sales reporting system is reporting extremely healthy sales of beef to China, so we can expect to see some increases in these numbers. Even with the data that we have, there has been an explosion in beef exports to China in 2021 relative to what we typically send. With China's second-largest supplier stepping out of the market for the next 30 days, we may see even greater export sales coming in.
Any increase in beef exports will occur at a time when a primary storyline in U.S. beef markets is domestic beef demand. This certainly is not limited to beef; demand for both pork and chicken are very strong at the same time. There is quite a bit of chatter attributing this to foodservice coming back online and securing product, but regardless of the ultimate cause of this demand, beef markets are on fire. The beef cutout is approaching $330/cwt, which one would think would typically dampen export demand to a certain extent. While beef markets are taking off, cattle prices are not keeping pace, leading to increases in packer margins, but this subject warrants further digging in its own Market Intel.
Summary
Argentina's decision to halt exports of beef in an effort to fight domestic inflation has implications for other exporters of beef and importing countries in search of animal protein. While Argentina is not the top beef exporter in the world and this ban is only for 30 days, the country is a significant enough exporter and a key source of product for China.
When we combine this with the relatively tight supplies out there, the impact is likely going to place upward pressure on global beef prices, and push China to other beef suppliers in the short-term, at a time when the country has already been significantly increasing its purchases of U.S. beef. The U.S. is already experiencing rising beef prices due to a combination of factors, including very healthy demand, which would typically dampen export demand, so it will be interesting to see how this development affects exports.
Contact:
Michael Nepveux, Economist
(202) 406-3623
michaeln@fb.org
twitter.com/@NepveuxMichael